LG G4 hands-on: Quantum physics, leather and a smarter camera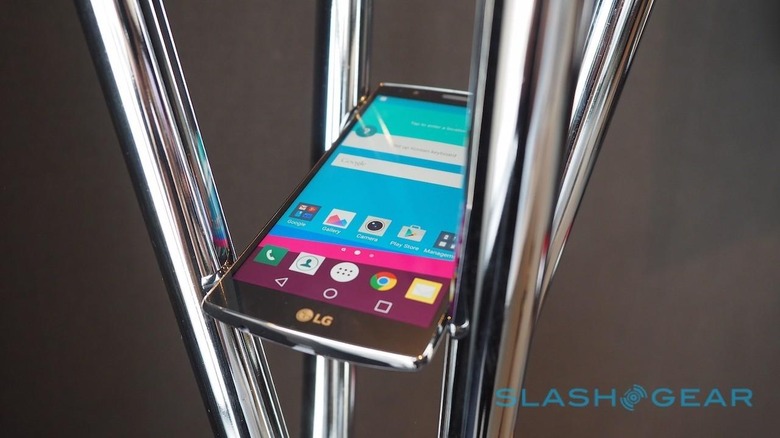 There's never been a tougher time to introduce a new smartphone, but LG thinks it has a hit on its hands with the new LG G4 for 2015. Building on last year's G3 with a better camera, more high-quality materials, and a cleaner Android install, it may have a vaguely nonsensical tagline – "See the great. Feel the great" – but marketing hyperbole can usually be forgiven if the device lives up to expectations. I spent some time with the G4 to see why LG is talking Quantum Mechanics and movie theaters for its new flagship.
LG hasn't strayed too far from the general aesthetic of previous G-series handsets for its new phone. You still get the rear-mounted button cluster for power/standby and volume, as introduced on the G2, and the 148.9 x 76.1 x 6.3-9.8 mm dimensions and 155g weight aren't far off those of the G3.
The big difference is how it actually feels in your hand. Just as Samsung finally learned to step away from plastic with the Galaxy S6 earlier this year, so LG has raised its materials game with the G4.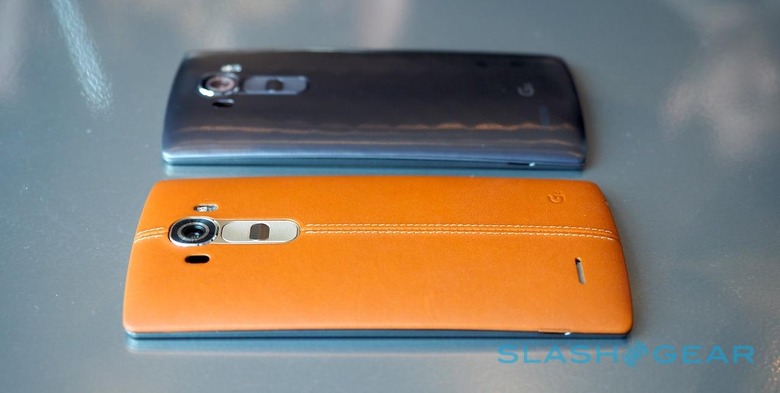 in fact, the South Korean firm spent more than three years developing the leather it uses for the G4's back cover, settling on the same hides used for premium handbags, but with a twist or two. Vegetable tanning is used, a relative rarity with only around 10-percent of leather goods in the world relying on the more environmentally-friendly process, and which should develop a nicer patina over time, LG claims.
It's also supposed to be more resilient to wear, though LG also cooked up its own treatment coating to improve water, abrasion, and scratch resistance. In all, it takes three months to go from cow to cover, getting a distinctive row of stitching – using, luxury thread fans, Gutermann's Mara, a high-end German brand – and, initially, a small selection of colors.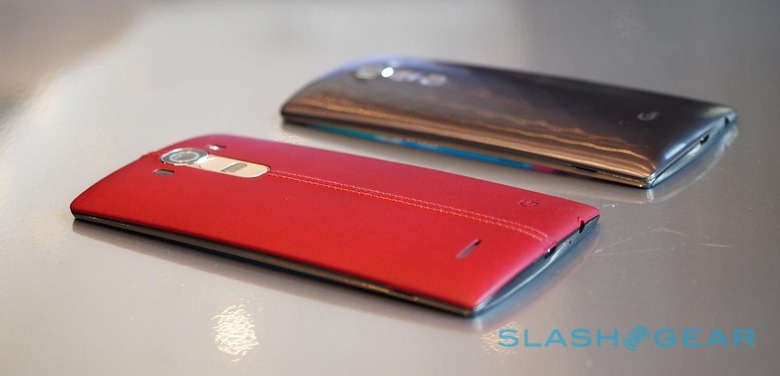 LG plans to add new hues to the range over the summer, and where the G3 had around ten slightly different body styles which meant battery covers weren't necessarily interchangeable between models, the plan is to have a single design for the G4.
The leather certainly does feel different to the usual metal or glass smartphone; neither warm nor cool in your hand, instead quickly coming to match your body temperature. It's not as soft as the leather Motorola opted for on the second-gen Moto X, though given that phone's tendency to scuffs and scratches, that's probably a good thing.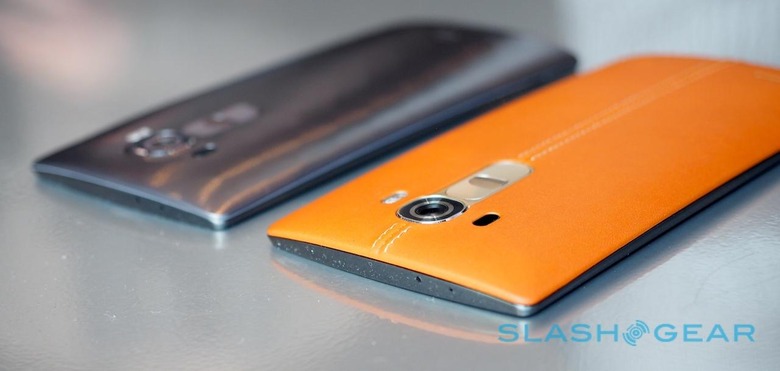 Those who don't like hide have a couple of plastic options to choose between, either with a hammer-pattern LG dubbed "metallic craft" in black or gold, or a "ceramic craft" white finish. Their respective textures may catch the light in interesting ways, but the plastic itself feels relatively cheap and a long way short of what Samsung, HTC, and Apple are doing. You'd need to have a particularly good reason to opt for them over the leather.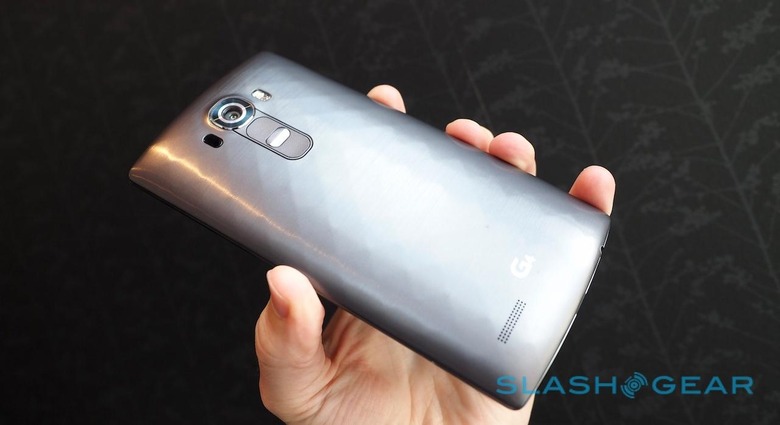 On the flip side, the G4's bezel is still plastic, but at least it surrounds an impressive screen. Measuring in at 5.5-inches and running to Quad HD resolution, it may sound like the G3 on paper, but in fact it's a completely new panel.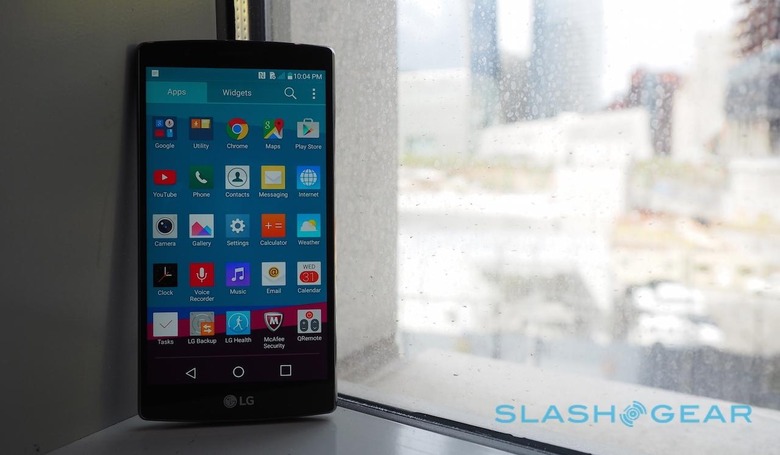 LG calls it IPS Quantum Display, and it stems in part from the company's frustration with everybody in the smartphone business claiming to have the best screen on their phone. Since there's no single standard to judge that, LG turned to the movie industry, and specifically the Digital Cinema Initiatives (DCI) standard used by studios like Disney, Paramount, Sony, and 20th Century Fox.
DCI considers quality from the perspective of what the human eye sees, which means a particular focus on red and blue. Usually you'd be looking at $6k+ for a DCI-compliant broadcast reference monitor, but LG claims the G4 has a 98-percent DCI ratio thanks to its new screen. In contrast, the Galaxy S6 scores 110-percent, which means it over-saturates.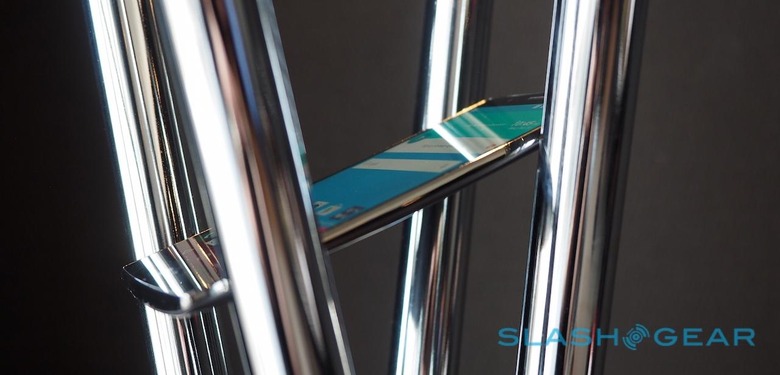 Meanwhile, the G4 has a 2.7 minimum perceptible color difference score, versus 7.7 for the Samsung, which should mean more color accuracy. Reds that actually look like reds, for instance, and certainly when the same image is viewed side-by-side on the G4 and one of its rivals, the latter tend to skew more toward the orange.
In fact, LG claims a 20-percent increase in "authentic" color over the G3, while brightness is up too, at 500 nits. The IPS Quantum Display has a 1,500:1 contrast ratio, too, but cuts power consumption by 11-percent compared to the G3.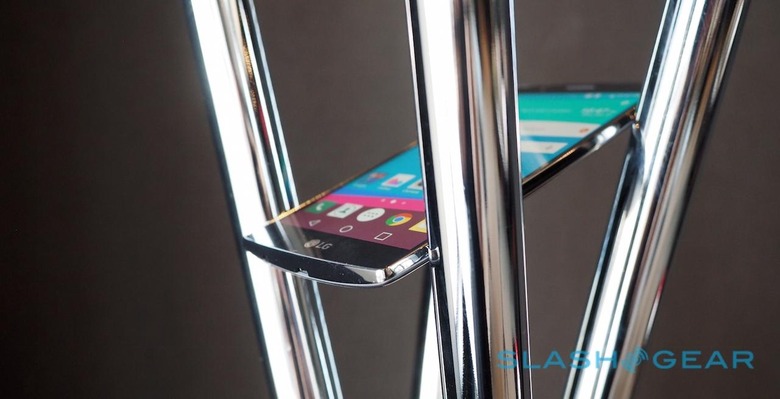 Things get a little confusing if you want to understand exactly how it's done, and where the quantum part comes in. LG used a new material in its liquid crystal, dubbed Negative LC, to make it 25-percent brighter, and then swapped the traditional yellow phosphor element for red and green. The non-Newtonian part apparently refers to the way the blue light source is changed to make blue/red/green pixels.
Buzzword, then, or legitimate technological shift? Either way, the G4's screen looks great, without the eye-searing colors some phones push in the name of making a memorable display, while still achieving AMOLED-like inky blacks.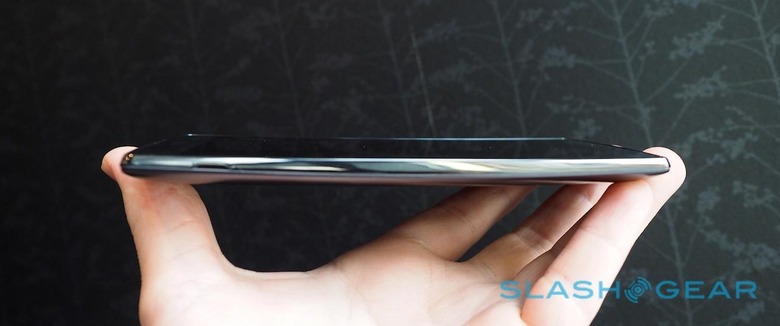 It's also slightly curved. While LG has left the more noticeable twist for its G Flex 2, the G4 does have a mild bend to it, helping shift the screen out of the way of danger should the phone be dropped. Durability is said to be up 20-percent over the G3, and the G4 overall more resilient than either the iPhone 6 or Galaxy S6 in typical drops, where its chassis has a degree of elasticity that can absorb shocks.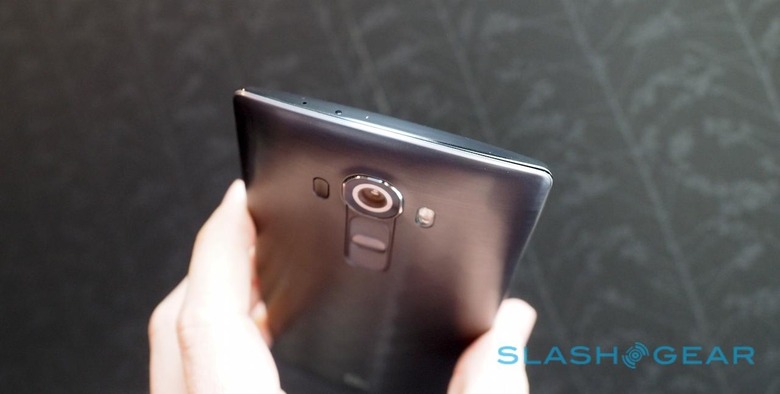 The other big change is in the camera. LG introduced laser autofocus last year on the G3, and of course that's carried forward on the G4. This time around, it's paired with a 16-megapixel, 1/2.6-inch sensor that's 40-percent larger than what the G3 sported, with an f/1.8 lens and a second-gen optical image stabilization system (OIS). Now, the camera's OIS can handle twice the vibrations, as well as 3D movements.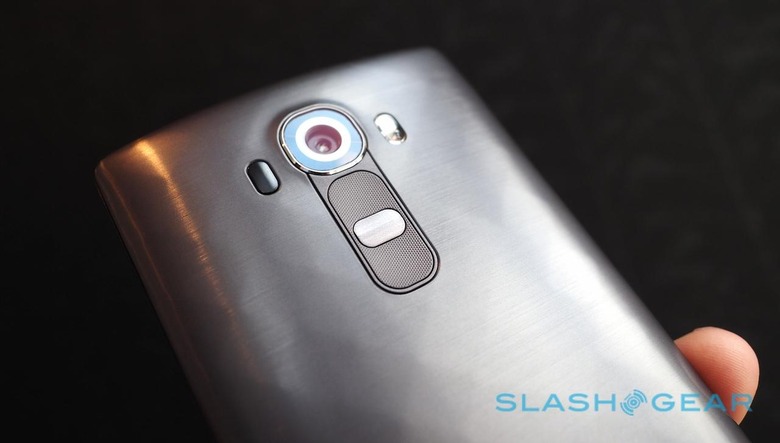 LG's goal was to take on not only other phones but standalone cameras, too, and there's something for both the point-and-shoot fans and those who prefer to get their fingers dirty with the settings.
For the latter, there's a comprehensive manual mode, complete with a real-time histogram and previews of settings changes right in the live view. Scroll bars give control over shutter speed (1/1600" – 30"), ISO (17 levels from 50-2700), exposure value (-2.0 to +2.0), and white balance (51 levels from 2300K-7500K), while the G4 supports RAW+JPEG capture and manual focus.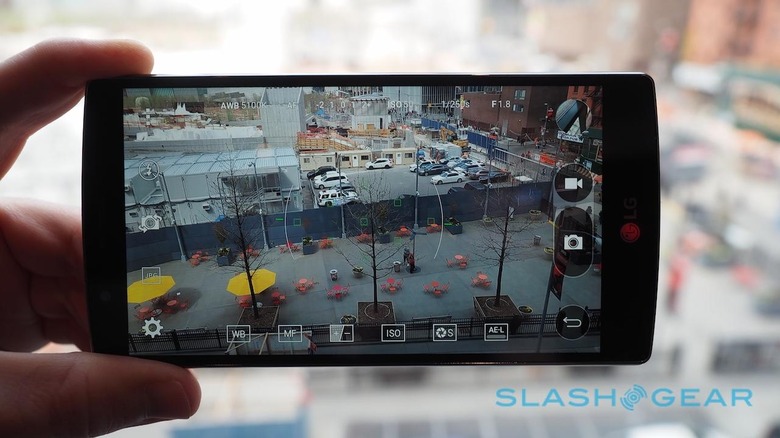 Those who prefer just to leave things in auto or semi-auto mode, however, get a new sensor. LG's Color Spectrum Sensor lurks just under the LED flash, and aims to do for automatic balance what a wise hand can achieve with manual controls.
LG's argument is that no other camera beside the G4 can properly recognize colors when in auto mode, since they struggle to get a proper grip on the actual lighting conditions and how they impact the colors that objects in the frame appear.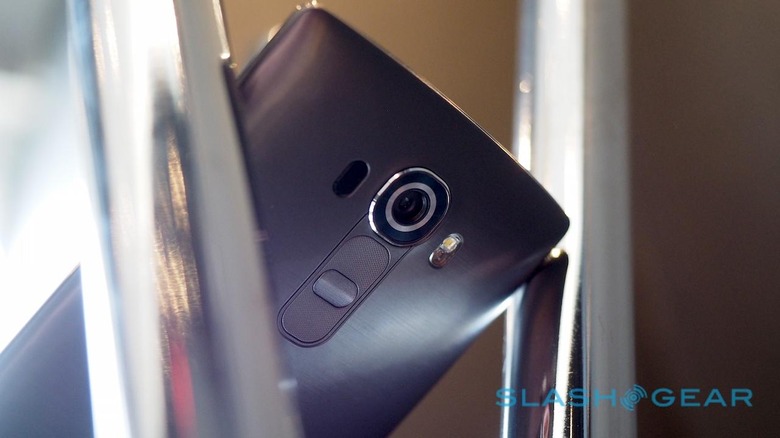 The Color Spectrum Sensor first tracks the light condition – whether it's artificial, natural, LED, etc. – and then looks at both RGB and IR emissions from what's in-frame in the visible and non-visible spectrum. By combining the two, LG argues that you get far a more accurate reproduction of the actual scene in your final frame.
We'll need to spend more time with the G4 to actually figure out just how accurate those claims are, though it's clear LG has spent time refining the camera experience as a whole. There's a little chest-beating in the company's shaving 0.1s off Samsung's Galaxy S6 camera app load time – the G4 takes 0.6s – and trimming the two-step quick launch on the S6 to a single step on the G4. Double-tap the volume-down button, and the LG automatically wakes up and snaps a photo (you just have to hope you're framing it right).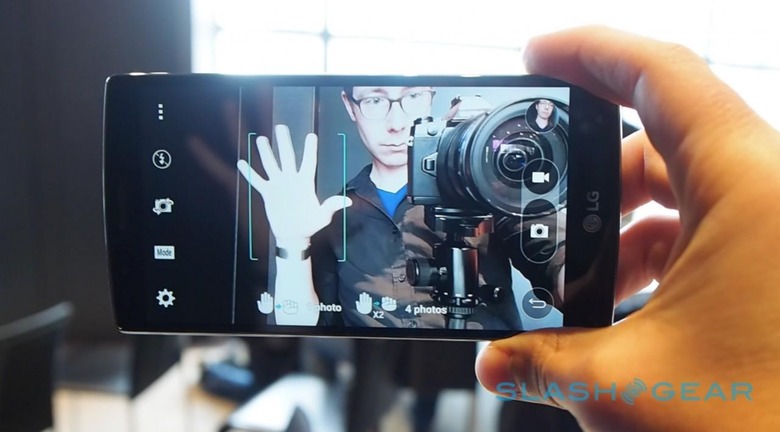 Meanwhile, there are 104-megapixel panoramas, producing whopping 20,288 x 5,120 frames, along with an 8-megapixel front-facing camera. LG's Gesture Shot – which allows you to trigger a selfie countdown by clenching your fist in-frame – has been improved, too: clench your fist twice, now, and you'll get a series of four shots in 1s intervals.
Removable batteries and microSD slots are increasingly rare on high-end smartphones, but LG is a hold-out, offering both on the G4. LG suggests you'll see up to 19.6hrs of 3G talk time, 93.8hrs of music playback or 13.6hrs of video playback, or 10.7hrs of browsing over WiFi. Unclip the back cover – at which point you realize quite how thin the layer of leather actually is – and you can swap out the 3,000 mAh Li-Ion battery for a replacement.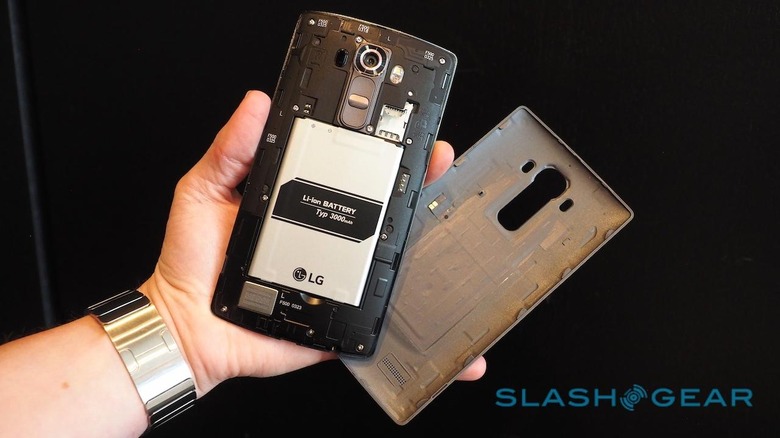 You have to really want to carry that spare, however, as here are a couple of downsides. For a start there's no support for Qualcomm's Quick Charge technology, which significantly trims how long it takes to recharge phones like the HTC One M9. If you want wireless charging, meanwhile, though the G4 has the circuitry built-in, you'll need to clip on the Folio Case cover for it to actually work.
As for storage, there'll be a single 32GB version of the G4, but it'll support the fattest microSD card you can find. A free LG AirDrive app lets both internal and memory card storage be mounted on a PC or Mac just as you would a thumb drive, only over WiFi or LTE.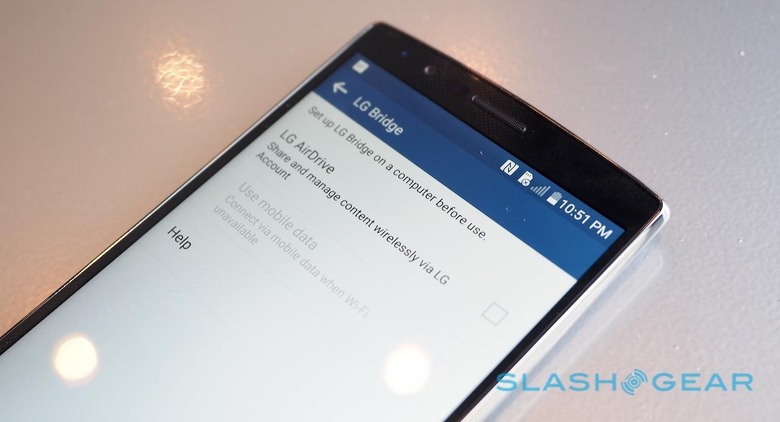 In fact, LG's approach to software this time around is pretty interesting in a number of ways. Unsurprisingly it's Android Kit Kat, though it's running on a Snapdragon 808 chipset rather than the 810. According to LG, that's because the company worked closely with Qualcomm over the past two years, tuning the 808 to specifically suit the needs of the G4.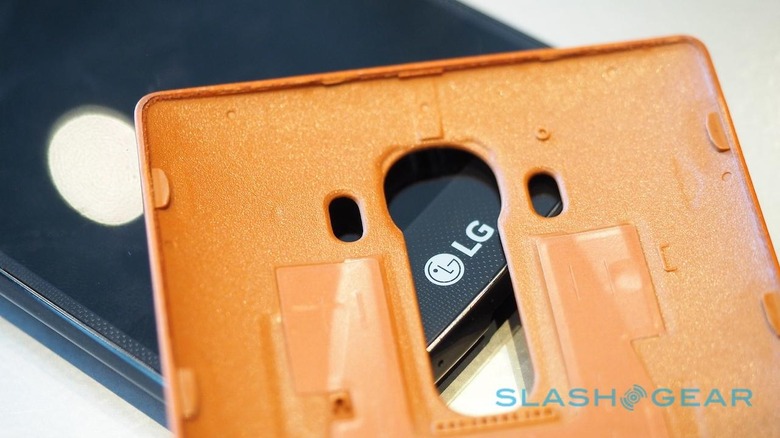 That means an opportunity for some more competition, this time with the Exynos 7420 in the S6. According to LG, while apps on both phones load pretty much identically, in-app performance on the G4 is swifter: 1.0 second to start video playback, for instance, versus 2.1 seconds on the Samsung, or 0.4 seconds to load the photo folder versus 0.6 seconds on the S6.
Arguably more interesting – though in my limited play, the G4 certainly felt snappy – is what apps you're actually loading. We've criticized LG in the past for pushing its own apps when really what most Android users prefer is Google's own software, and that message appears to be finally hitting home.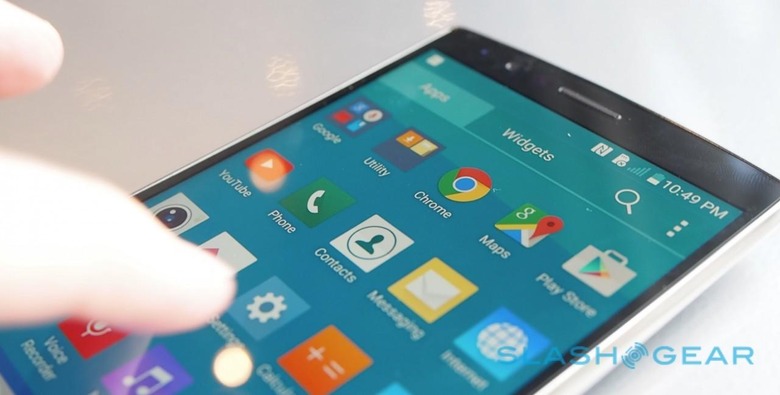 Instead of trying to replace Google's apps, LG worked with the company to better integrate the native Android software with the G4's features. So, Chrome is the default browser, and Google Drive – with 100GB for two years included out of the box – is integrated into LG's Gallery, Music, and File Manager apps.
Both Music and Gallery automatically search and connect to a Chromecast on the same network, and there's native support for Android Wear in all LG's software on the phone. Meanwhile, by bolstering the positioning sensors – better combining the GPS and things like the accelerometer – LG claims double the accuracy in navigation and a 50-percent cut in pedestrian and car error rates in dense urban areas, all of which is tied into Google Maps.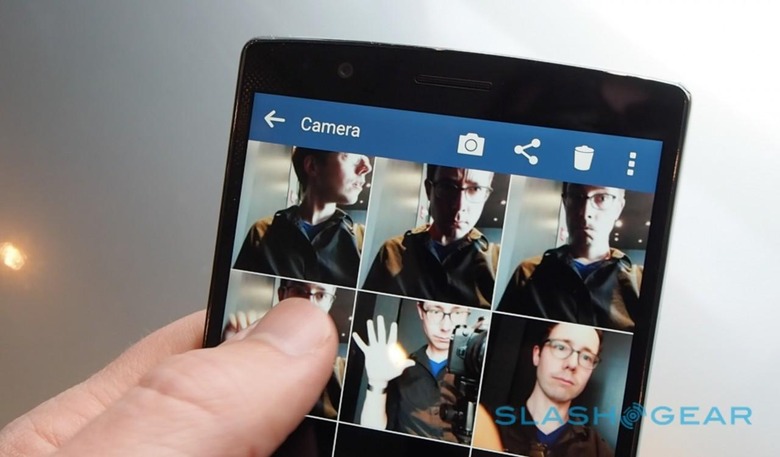 Still, LG couldn't resist a little extra tweaking. The "Super Fast Gallery" does what it says on the tin, loading thumbnails in day, month, or year views without the lag other phones can suffer from, and will automatically do a Google Photos-style "Memories" curation, only without first having to upload shots to the cloud.
A "Smart Calendar" meanwhile sucks in screenshots, memos, or pictures from the gallery, and files them in an "Event Pocket" that can be dragged to the schedule. It's meant to make remembering events and such more straightforward, by triggering your memory with a quick reference.
The bigger question, though, is whether the LG G4 has done enough to make it memorable among its smartphone rivals. I certainly like the leather – any improvement over plastic in a flagship is a good thing by me – though even with LG's carefully treated hide, the S6 and One M9 keep the edge in overall feel. They simply do a better job at hiding the lingering plastic, whereas the G4's metal-effect edges feel chintzy in comparison.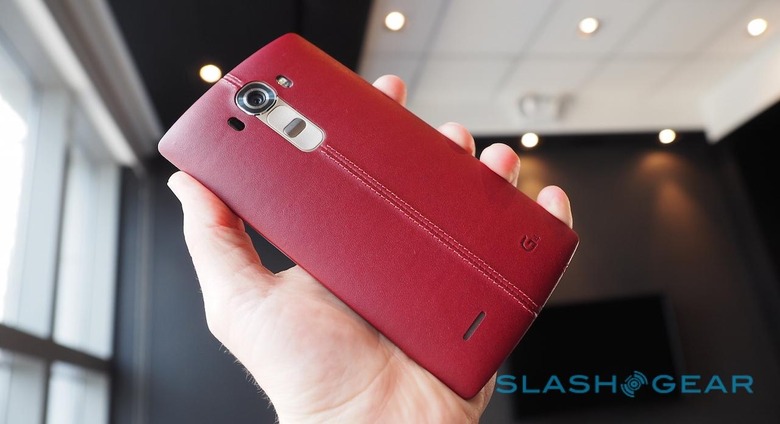 With camera performance such a key role for any modern handset, LG's clear investment in improving the G4's photographic skills are certainly intriguing. It'll take real-world use to see quite how much of an advantage over other devices there is as a result.
There won't be long to wait. LG says the G4 will go on sale in Korea tomorrow, April 29th, while US sales across a number of carriers are expected to kick off in late May or early June. Pricing is yet to be confirmed, but think somewhere in the same region as the G3, so most likely $200 with a new two-year agreement.