Monster Peugeot Sport 208 T16 sets Pikes Peak record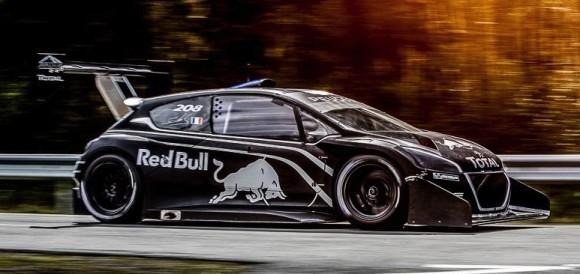 A beastly custom Peugeot has set a new race record at the Pikes Peak Hill Climb Challenge, besting the previous time by more than 90 seconds, after the French company specially created an 875HP monster for the attempt. The Peugeot Sport 208 T16 Pikes Peak musters more power than an F1 car, with a special bi-turbo V6 engine that – thanks to the significant diet the racer has been put on – means it offers more than 1HP per kilo.
All that power is forced to the road through all-wheel drive, though Peugeot Sport has still managed to keep the overall weight down to 875kg. The engine is shifted to the mid-rear, Peugeot says, for better balance, while there's a specially developed undertray and an unavoidably eye-catching massive spoiler front and rear. The undertray alone contributes half of the 208 T16's overall downforce.
The Pikes Peak Hill Climb is one of the more unusual races a manufacturer can take part in. The race takes part over a 12.42 miles circuit with over 156 turns; however, it's arguably the change in altitude which makes it such a challenge, climbing 4,720 ft into the Colorado hills.
That, the French car company points out, makes getting sufficient air into the engine an issue, and forces the turbochargers which can artificially push enough through. "In the case of a normally-aspirated engine, you basically lose one percent of the available power every 100 meters you climb" Peugeot Sport director Bruno Famin says.
The hard work paid off, however, on the day, with driver Sébastien Loeb opting "to push to the limit" the 208 racer and make it to the top of the track in 8.13:878. The previous record, of 9.46:164, had been set in 2012 by Rhys Millen.
"At the beginning of my run there was a bit of pressure for sure because I knew there was so much work and investment from Peugeot and all the partners" Loeb said after smashing the record time. "Now, after all the practice, it was just down to me and I had to perform."
Loeb averaged 90mph on the track; you can see his race in full in the video below.