Monster Beats Solo headphones: smaller, cheaper, less Gaga

If Monster's new collaboration with Lady Gaga is a little too extreme in the style stakes for you, then their new entry-level headphones – the Beats Solo – may be more attractive.  Smaller and lighter than the original Beats by Dr. Dre, the new Beats Solo set still has the folding earpiece design but now packs a more compact driver.
There's also a new in-line control box, complete with a microphone, which allows the Beats Solo to be used as a cellphone hands-free kit as well as to control compatible iPods.  The same controller will be used on Monster's own headphone range, as an option.
The new Monster Beats Solo will be available in black and white, and go on sale from November.  They'll be priced at around $219.99.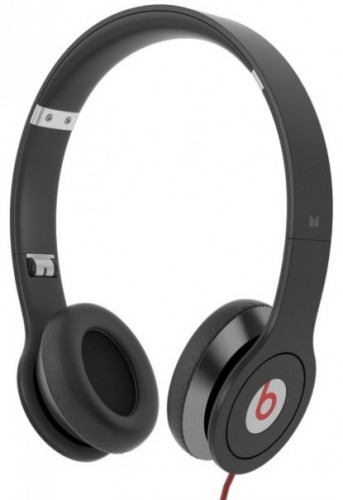 Press Release:
Monster and Beats by Dr. Dre Announce "Beats Solo™"

New Addition to Popular "Beats™ By Dr. Dre™ Headphone Line is Lightweight, More Compact Option; Available in Black and White Versions

BERLIN–(BUSINESS WIRE)– Monster and Beats by Dr. Dre, today announced an exciting new development in the evolution of the popular "Beats™ By Dr. Dre™ headphone line – the on-ear "Beats Solo" headphones (MAP: $179.95, SRP: $219.95). The new Beats Solo high-performance headphones offer users an ideal entry level Beats by Dr. Dre personal listening experience in a lightweight and smaller version. Beats Solo will be available in November 2009 in both black and white versions.

Noel Lee, the Head Monster, noted: "When Monster teamed up with Dr. Dre and Jimmy Iovine for Beats™ by Dr. Dre™ headphones our goal was to change the way people experience their music by simply letting them hear what musicians recorded in the studio – with the extreme clarity, deep bass and full power that had been lacking in conventional headphones. Thanks to Beats, people have begun to understand that sound really does matter. Now, with the introduction of Beats Solo, we're thrilled to make the Beats by Dr. Dre from Monster experience available in a smaller, lighter on-ear headphone." Mr. Lee continued: "There were significant challenges in the creation of Beats Solo, including how to achieve really great sound from a small speaker driver. This required serious innovation and creative audio engineering. We were also challenged to take the familiar Beats design and morph it into something smaller and more compact, yet still recognizably 'Beats.' I'm delighted to say that we rose to both these challenges – the result is one of the easiest-to-use, easiest-to-wear and best-sounding headphones ever created, with a look that is pure Beats and pure Dr. Dre."

Jimmy Iovine, Chairman of Interscope Geffen A&M said: "For Beats Solo, Dre and I worked along with Monster to create the best sound possible in light, comfortable but powerful headphones."

To provide users with the ultimate in convenience and performance when used with today's portable music devices, Beats Solo headphones feature "ControlTalk," an advanced on-cable feature that provides users with full control of their listening experience when using their 3GS iPhone®, iPod® shuffle and other new iPods and portable music devices. The special Monster ControlTalk™ headphone cable features an integrated high grade microphone and answer button and allows users to access their music and answer phone calls without having to reach into their pocketbook, backpack or pocket.

In addition to its availability with Beats Solo and all Beats by Dr. Dre headphones from Monster, including the new white version of Beats Studio and Heartbeats by Lady Gaga from Monster, the ControlTalk feature is also being made available as an option with all Monster brand headphones as well.

The ControlTalk remote and mic are supported by iPod nano (4th generation), iPod classic (120GB), iPod touch (2nd generation), and iPhone 3GS and newer, but not all, Blackberry models. The remote is supported by iPod shuffle (3rd generation). Audio is supported by all iPod models. Requires software version 1.0.3 for iPod nano (4th generation), 2.0.1 for iPod classic (120GB), and 2.2 or later for iPod touch (2nd generation). Support for Blackberry varies by model. Subject to change.