Modern Combat 4: Zero Hour back on Google Play with MOGA support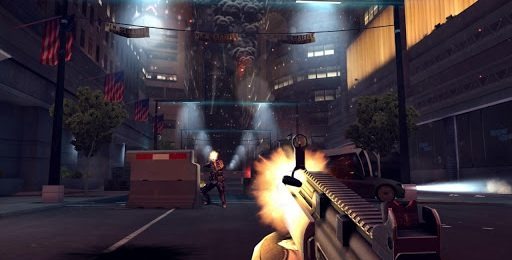 Yesterday, mobile gamers were disappointed to see that Gameloft's new title, Modern Combat 4: Zero Hour had been pulled from the Google Play Store just a few hours after launch. This came on top of a slight delay that saw the game pushed back past its original December 6 release date, so fans were already pretty annoyed by the time the game was pulled. At the time, Gameloft said some users were having issues downloading the game and that it had decided to stop offering it until these problems were worked out.
Whatever was causing those issues seems to have been fixed rather quickly, as Modern Combat 4 is available to download again on the Google Play Store. At the time of this writing, the game's description alerts users to these download issues and says that "the situation should improve within the next 24 hours." If users have been experiencing issues while trying to download the game, they're told to first wait 60-90 minutes as the data download may need extra time to initiate, but failing that, they should clear the data and cache for the Google Play Store in its application settings.
Interestingly enough, Modern Combat 4 is coming back to the Google Play Store with some additional functionality: MOGA support. MOGA, as some of you already know, is a controller from PowerA that's made for Android gaming. It features face buttons, joysticks, and triggers just like a controller made for consoles, so it should come in handy when you're playing an FPS like Modern Combat. At the very least, we imagine it would be a lot better than using touch controls.
MOGA is compatible with Bluetooth-enabled Android phones and tablets that are running 2.2 Gingerbread or higher, so if you plan to do a lot of gaming on your Android device, it might be worth a look. You can get Modern Combat 4: Zero Hour now from the Google Play Store for $6.99 [download link]. Just remember to be patient if the game – which weighs in at a hefty 1.9GB – takes a long time to download.