Mobinnova Beam (aka élan) Smartbook to launch in January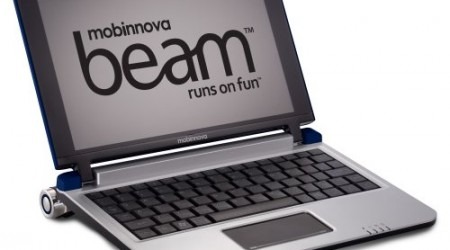 Remember Mobinnova's élan Smartbook from Computex earlier this year?  The 8.9-inch ultraportable promised HD video playback and hours of battery life, thanks to its NVIDIA Tegra chipset; now Mobinnova are back, with the élan rebanded as the Beam, and promising a launch for the compact machine at CES in January 2010.  According to LaptopMag's interview, the Beam will be offered with a carrier subsidy, though the company are keeping quiet on exactly which US network they're in bed with.
The Beam runs Windows CE Embedded, with a custom UI on top of that underlying OS.  Mobinnova demonstrated one such UI a few months back, but there's no word on exactly what will have made it to the production model.  The company has confirmed that, at least initially, there won't be an app store for the Smartbook, although they'll make some apps and games available as (potentially paid) downloads.
There'll also be carrier customisation, but while the Beam has a GPS chip there won't be a navigation app.  CTO Mark Anderson refuses to be drawn on potential monthly data costs (or indeed the initial cost of the Beam itself) but we're tentatively optimistic about his talk of falling subscription rates.