Mobileye 5-Series "electronic co-pilot" uses your phone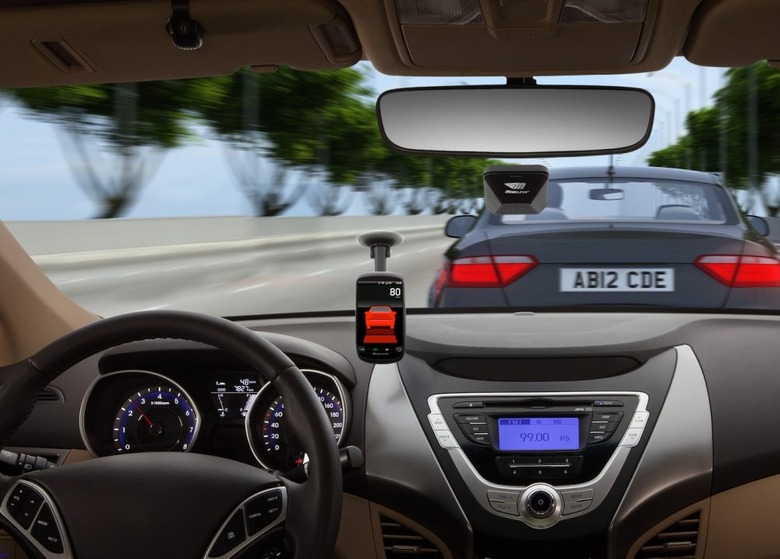 Drivers wary of losing momentarily losing attention and accidentally crashing might be interested in the new Mobileye 5-Series system, a smartphone-connected in-car safety device that tracks unintended lane departures, imminent collisions, pedestrians, bicyclists and motorcyclists, as well as road conditions, and flags up potential hazards. Consisting of a smart camera that sticks to the windshield and monitors the road ahead along with speed limit signs, a smartphone app for Android phones that hooks up via Bluetooth, and an optional dash-mounted display, the promise is a little extra warning to unexpected threats to allow you to react in time.
Various safety alerts are offered, including lane departure that beeps when you drift out of your current lane and headway-monitoring that tracks the distance between you and the car in front, warning if you're too close. A forward collision warning sounds the alarm up to 2.7s ahead of a collision – time enough, Mobileye claims, for you to avoid the crash altogether – and there's up to a 2s warning before potentially hitting a pedestrian or cyclist.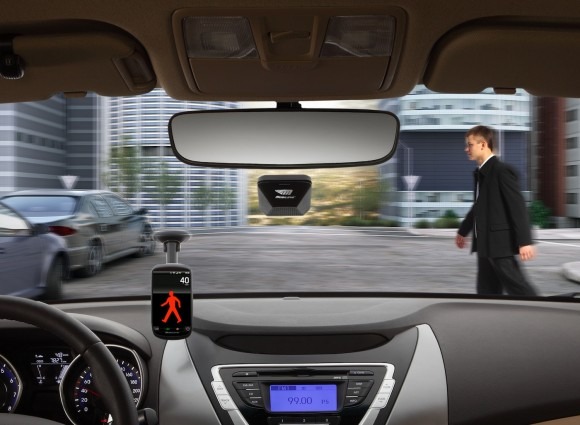 Other, more convenience-centric features include automatic control of the high beams, shifting them between high and low depending on ongoing traffic, and alerts when you exceed the speed limit (tracked by optical recognition of signs along the road). The company describes the whole system as "an electronic co-pilot" and suggests that insurance companies may soon consider discounts for those with such tech installed.
Two packages are available now, the Mobileye 560 at $849 and the Mobileye 550 at $749, the latter not including the dash-mounted Eye Watch Display and relying solely on a smartphone for display. More on the functionality in the videos below.
Forward Collision Warning:
[vms 5ec366ca86a4329a2b7c]
Intelligent High Beam:
[vms 3730f82b150c5ef38b8f]
Headway Monitoring and Warning:
[vms d1af87f84fee909eef33]
Pedestrian Collision Warning:
[vms 86034e448d2ccc5bb970]
Speed Limit Identificatoin:
[vms a32a9fb13e93d1c8f310]
Lane Departure Warning:
[vms 27045b462934977ccad9]