Mobile Edge Monaco Notebook Case review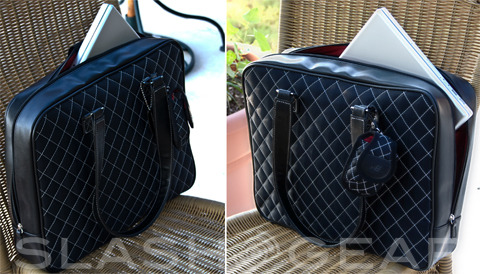 The Monaco notebook bag from Mobile Edge is one of their "For Her" Collection. These bags are for working women who carry the laptops, with an emphasis on both style and functionality.
The quilted Microfiber exterior is very elegant but still cute enough to have youth appeal. Meanwhile, the interior is lined with rich poly-suede, so it both looks and feels good. The Monaco bag holds notebooks with up to 15.4" screens and is not too heavy, in fact it only weighs around 2.5 lbs. My MacBook Pro fits nicely. Besides the well-padded laptop compartment there is section for papers and files, and in the bottom section there is a pocket for spare batteries and cables. I particularly like the space not only for two pens but also for your lipstick.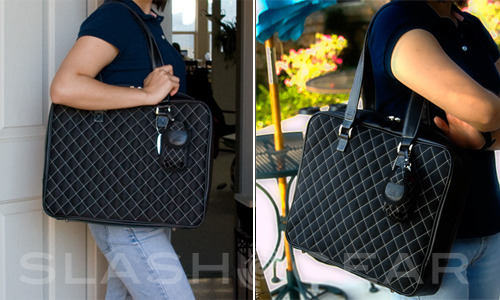 The removable matching makeup bag is included, and can be detached from the main bag with just one snap. This bag could be too small for your entire makeup collection, but it is enough for just powder and mascara. You could also use this as a wallet, and there are some pockets (slots) for credit cards and ID.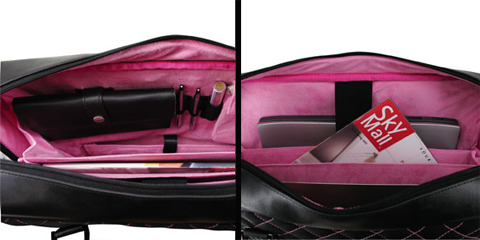 This bag comes with a detachable cell phone pouch, but it pouch won't fit smart phone and so my iPhone has to go inside the main bag itself. However, there is a Wireless Security Shield in the main compartment, which is a pocket that supposedly protects cell phones and PDAs from hackers and viruses. This pocket is big enough for any size of smartphone or PDA, but be careful: if you put your phone inside, you won't be receiving any phone calls. Once your handset is in there, it's cut off from the network signal.
This bag has only one main compartment, and while it'll open pretty widely which is very useful, I wish it had an outside pocket for small items like keys so that I wouldn't need to open the body of the bag to grab those.
Overall, I like this bag, it's both functional and, at only $99, affordable. It is available with either white stitching (and a red interior) or pink stitching (with pink interior).
[rating:4.0]