MMT Monitor2Go 15.4-Inch USB Secondary Display Ideal For Road-Warriors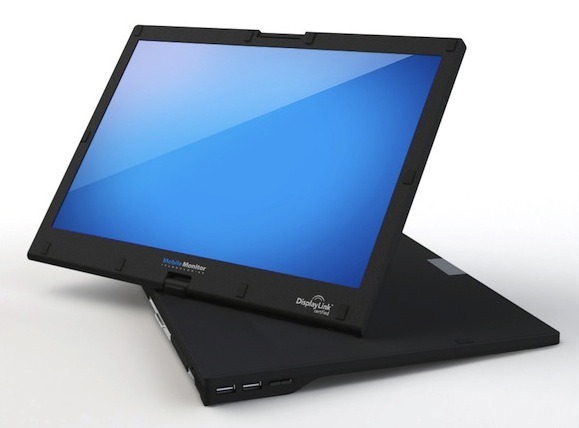 MMT has outed a new USB external monitor intended for road-warriors desperate for extra screen real-estate. The MMT Monitor2Go is a 15.4-inch, 1280 x 800 folding, twisting secondary display using DisplayLink's virtual GPU technology to hook up via your laptop's USB port rather than a graphics output. It has a built-in stand or can be propped in portrait or landscape orientation.
A further two USB ports allow you to daisy-chain up to six displays from a single host USB on the notebook, though as we've seen with previous DisplayLink implementations it's the strength of your CPU and RAM which generally decides how many screens one laptop can manage. The Monitor2Go weighs 4lbs and supports both PCs and Macs.
MMT expect the Monitor2Go to be priced at $279 when it goes on sale. That's more expensive than a regular LCD screen of the same size, true, but considering we've seen 7-inch USB sub-displays priced at the $200 point you're getting plenty more pixels for your money.
Press Release:
DisplayLink USB Virtual Graphics

Power Elegant, Portable Monitor2Go

Industry's first 15.4-inch, high-quality, truly take able-wherever-you-travel display

PALO ALTO, Calif., and BOSTON, Mass., Jan. 4, 2011 – Consumers and computing enthusiasts who enjoy using two or more full-size PC monitors at their desks can now get that same multi-monitor convenience and productivity while on the go.

DisplayLink and Mobile Monitor Technologies today announced MMT's Monitor2Go – the first totally portable, yet desktop-quality, 15.4-inch display that's easy for people to pack up, plug in, and put to use wherever they are. Another innovation to use DisplayLink USB virtual graphics, Monitor2Go combines a large display screen with a slim, lightweight clamshell design to give users true portable productivity.

The two companies will unveil Monitor2Go during the International CES show at the Las Vegas Convention Center, Jan. 6-9, 2011. At an estimated retail price of $279, Monitor2Go will be available to consumers later this quarter.

"Monitor2Go will be one of the most useful products shown at CES and that consumers can buy," said Larry Pensack, MMT's president. "It's a high-quality, full-size display that can be used with virtually any notebook or desktop PC, and that you can be hung, stacked or set just about anywhere to expand your visual workspace and get more done faster. And with DisplayLink's USB virtual graphics technology, there's no connectivity or cable hassles."

"Most multi-monitor fans are frustrated when they have to leave their desktop set-up behind and are limited to one screen while traveling," said Dennis Crespo, DisplayLink executive vice president of marketing and business development. "By having a USB-connected portable display that is the same size as some of the most popular notebooks on the market, there is no more compromise necessary."

Monitor2Go comes with a built-in stand that allows the screen to sit at eye level, like a notebook display, and to be positioned in either portrait or landscape mode. The device is also designed for hanging. Additionally, up to six screens can be daisy-chained off a host computer's single USB port to create an instant video wall.

Besides being easy to connect via USB, other Monitor2Go features include a light weight of four pounds, a durable design to withstand travel rigors, and a sleek profile to slide into backpacks and briefcases. The 15.4-inch diagonal LED-backlit display provides a crisp 1280x800 resolution, and works with both PCs and Macs (beta).

Private Monitor2Go demonstrations are available at the DisplayLink CES booth, MP25231 in the South Hall Lower Level of the Las Vegas Convention Center. To schedule a meeting, contact tradeshow@displaylink.com.

About MMT

Multiple displays have been proven to provide as much as 35% more productivity than computing on a single display. Mobile Monitor Technologies, based in Massachusetts, specializes in portable displays for the accounting and financial industries with its Field Monitor Pro series. Its first entry into the consumer market, Monitor2Go will bring the same high quality, productivity optimized displays to the home and office.