MixRadio's personalized music streaming lands on Android, iOS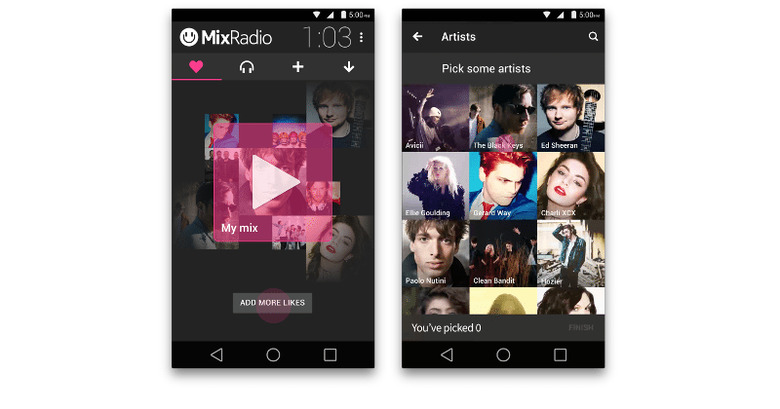 MixRadio has officially outgrown its roots. The music streaming service that prides itself with its personalized and local-aware curated playlists has just announced its expansion to cover almost all of the mobile world. That means, for all intents and purposes, Android, iOS, and its original Windows Phone base. It is also announcing a new partnership with HTC. Now owned by one of the most popular messaging services, MixRadio is set to compete in an already crowded turf headed by the likes of Spotify, Rdio, Apple, and now, Tidal.
MixRadio has had a very notable pedigree, but also a slightly troubled past. It started out as Nokia Music, amusingly enough, before being rebranded as Nokia MixRadio. The Nokia part was eventually dropped when Microsoft acquired the Finnish mobile giant. But late last year, Microsoft sold off MixRadio to LINE, one of the top contenders in the instant messaging space.
All throughout its history, MixRadio has solidly been a Windows Phone app, which isn't surprising given where it came from. With its acquisition by LINE, however, whispers of expansion into Android and iOS began to circulate. Those rumors have become reality today, with MixRadio announcing it's coverage of the three major mobile platforms.
But the music streaming biz is already filled to the brim with giants and MixRadio will have to do more to stand out from that crowd. MixRadio's slogan has always been a personalized music experience, which is something almost every service promises. In practice, however, MixRadio delivers by offering playlists curated by local artists and music pundits in the 31 markets where it is available. Other than that, MixRadio also offers the usual playlists curated from the user's habits and preferences, with thumbs up or down rating to help further narrow down the suggestions.
MixRadio is also taking the opportunity to announce its new friendship with HTC. MixRadio will be the exclusive source of music updates on HTC's BlinkFeed, the manufacturer's own personalized news aggregation feature found mostly on its flagship phones. MixRadio also has existing deals with Adidas for providing music to its MiCoach Smart Run watch and with Harman Kardon for integrating into its Omni speakers.