Mitsubishi Unisen Immersive Sound HDTVs get WiFi, Bluetooth A2DP and soundbars

It's not just a new range of 3D DLP HDTVs Mitsubishi want to tell us about; the company also have a somewhat more affordable new line-up of sets in their 2010 Unisen Immersive Sound range.  The 40- to 55-inch HDTVs in the new 154 Series, 164 Series and 265 Series each have edge-lit LED backlighting, 120Hz picture, a 16-speaker sound bar and StreamTV for internet-connected Vudu, Flickr, Pandora, Facebook, Twitter and other widgets.
Each set has four HDMI ports, surround sound outputs, Deep Color and x.v.Color, together with a USB input.  The 164 Series adds integrated WiFi for music and video streaming, Bluetooth A2DP support and various picture-tweaking systems, while the Diamond 265 Series gets an 18-speaker system, 240Hz picture and an optional iPhone remote control app, among other things.
The range kicks off with the 40-inch LT-40164 at $1,699, climbing all the way to $3,199 for the LT-55265.  Interestingly, despite the StreamTV branding there doesn't appear to be any connection that we can see with the mysterious range of 3D-capable HDTVs that were spotted on Amazon earlier this week.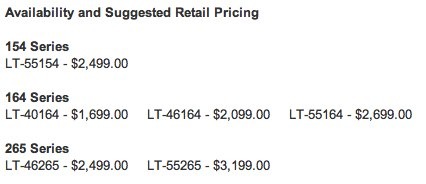 Press Release:
Mitsubishi Digital Electronics America Announces Its 2010 Unisen Immersive Sound TVs

New Edge-Lit LED Line-Up Includes Wireless Streaming Internet Media and New 55-Inch Screen Size

IRVINE, Calif.–(BUSINESS WIRE)–Mitsubishi Digital Electronics America, Inc. today unveiled the third generation of its one-of-a-kind Unisen™ Immersive Sound LED TVs. The 2010 line is packed with significant, new features and supplants last year's 52-inch models with a slim, impressive 55-inch screen size. Each new premium LED TV delivers the optimal blend of superior picture performance with unparalleled immersive sound technology, providing viewers with a complete sensory experience. Unisen will allow consumers to enjoy concert quality sound in their homes without the clutter of separate home theater components. The Unisen Immersive Sound LED TV 2010 line-up will feature screen sizes ranging from 40 to 55 inches.

"We're giving consumers the television experience of an ultra high-end home theater system, seamlessly integrated into a sleek flat panel package you can only get from Mitsubishi."

"Our unique brand of Unisen Immersive Sound LED TVs fill a significant void in the marketplace, by providing consumers with an efficient, streamlined home entertainment experience," said Max Wasinger, executive vice president of sales and marketing, Mitsubishi Digital Electronics America. "Unisen continues to stand out in the endless sea of flat panel TVs, by uniting beautiful LED edge-lit imagery with fully integrated, multi-speaker immersive sound technology."

Key features for 2010

Edge-lit LED: This cutting-edge backlighting technology bends and diffuses light for a sharper, brighter image. An added bonus: The arrangement of the LEDs along the edge of the screen makes an ultra-thin profile possible. LED-lit TVs are also more energy efficient than conventional CCFL backlit LCD TVs.

Immersive Sound Technology features 16 intelligent speakers that direct perfectly balanced audio waves beside and behind the user to reproduce 5.1 surround sound and create an unparalleled entertainment experience. Through the use of an advanced algorithm, the sound technology delays the sound beams and projects them independently from the 16 speakers at varying intervals, to create fully immersive surround sound.

StreamTV™ gives viewers instant access to an extensive library of high-quality entertainment and social media content. Grab your Unisen remote and choose from over 100 different streaming applications, including Vudu movies, Pandora, Flickr, Picasa, Facebook, Twitter, Associated Press, The New York Times and more.

Integrated Wireless Internet allows for seamless connectivity to your wireless home network, to stream your favorite movies and music from the internet to your Unisen Immersive Sound LED TV.

Bluetooth Audio Streaming lets you wirelessly stream audio from any Bluetooth® A2DP device (such as an iTouch/iPhone or Blackberry) to your Unisen TV. Now you can listen to your favorite music through Unisen's Immersive Sound Technology, and still take your playlist with you wherever you go.

All 154, 164 and Diamond 265 series Unisen Immersive Sound LED TV models for 2010 include Edge-Lit LED Backlight, Multi-Speaker Immersive Sound Technology with Variable Subwoofer Output and Center Channel Mode, StreamTV™ Internet Media, new Thin Depth Design, True120Hz, Energy Star™ 4.0 Qualified, Clear Contrast Panel, Plush 1080p® 5G 12-bit Digital Video Processing, 6-Color Processor™, 4 HDMI™, Deep Color™ and x.v.Color™, Easy Connect™, USB Media Input, and Detachable IEC Power Cord.

The MDEA 164 series is available in 40, 46 and new 55-inch screen sizes, and in addition to the features above, includes 16-Speaker Immersive Sound Technology, Built-in Wireless Internet, Bluetooth A2DP Audio Streaming, EdgeEnhance™, DeepField Imager™ and Advanced Video Calibration.

The MDEA Diamond 265 series is available in 46 and new 55-inch screen sizes. In addition to all features within the 154 and 164 series, each Diamond model includes 18-Speaker Immersive Sound Technology, True240Hz, new Thin Depth Design with Blue Light Accent, Plush1080p® 5G 18-Bit Digital Video Processing, iPhone Remote Control App, Audio Calibration Microphone, Perfect Color™, PerfectTint™, ISFccc® Advanced Video Adjustments, NetCommand, and Wired IR input.

"It's true that, for 2010, we're taking sound and picture quality to a higher level, but the core strength of the Unisen Immersive Sound LED TV line remains the same," says Frank DeMartin, vice president of marketing, Mitsubishi Digital Electronics America. "We're giving consumers the television experience of an ultra high-end home theater system, seamlessly integrated into a sleek flat panel package you can only get from Mitsubishi."