This week we got the opportunity to have a peek at a collection of devices from MiPow, not least of them the Power Cube 8000M. This device is a relatively massive 8000mAh rechargeable battery able to bring your devices multiple charges over the span of its own full charge life. The entire unit is 92 x 92 x 17 mm and has a direct charging time of 8-10 hours.
The version of this device that we got here is the Purple while the folks at MiPow also have Orange, Charcoal Gray, and Silver available now. You'll be able to charge this device up with your own microUSB cord from a wall socket the same as you would your own smartphone and you'll be able to charge your Android, iPhone, Windows Phone, or BlackBerry device up at will. In fact, if you've got any sort of device that charges with either a micro USB (included in the device's build), or full-size plug USB charging cable (like an iPhone 5 Lightning cable, for instance), you'll be able to charge here.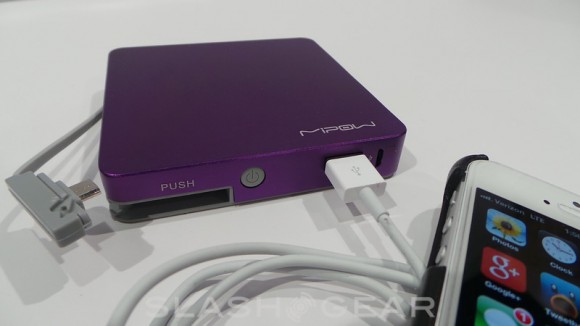 Five of the sides (all but the bottom) are anodized aluminum while the bottom is "painted by a fine rubber" as they say, anti-slip and all. We've had a look at a few other MiPow devices this week as well including the SP 5500 mobile battery, also known as the Power Tube 5500. This machine works with 5500mAh battery capacity and is available in a massive amount of different colors – and it's got a flashlight on it as well!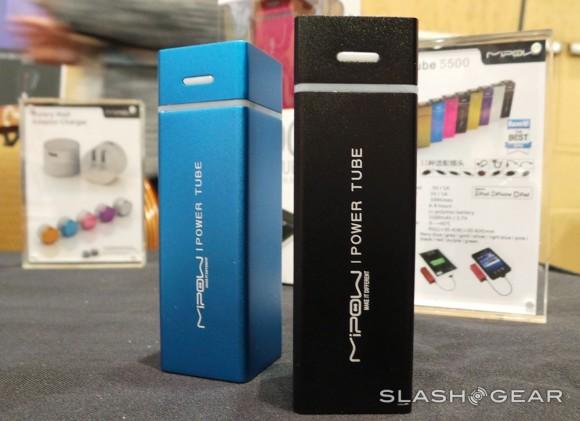 Have a peek at our whole CES 2013 offering in hands-on and up to the minute updates in our giant CES portal all week long. Also be sure to be on the lookout in the future for more MiPow action from all angles – they've also got Bluetooth headsets and speakers. Fun stuff for everyone!