Mio Moov V780 PND blurs lines with MID/UMPC features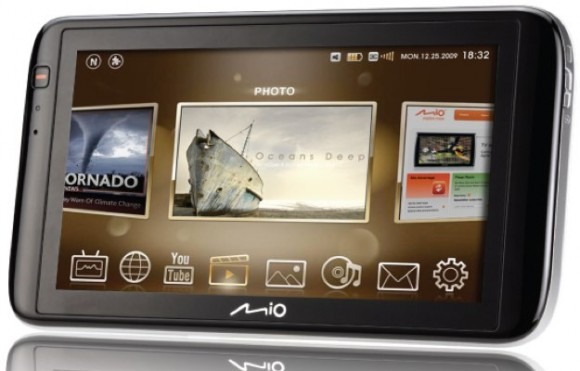 It's tough going being a standalone PND manufacturer these days: you can either refine your GPS devices to suit extreme niches or try to incorporate some extra functionality and jump on board the MID bandwagon.  Mio have obviously decided to take the latter route with the Moov V780, a 7-inch WVGA touchscreen slate which goes so far outside of the company's PND realm that the GPS chipset is actually optional.
That's because Mio are definitely looking at MID functionality to save them; the Moov V780 has a capacitive touchscreen, WiFi b/g and optional 3.5G and WiMAX connectivity, together with a mini USB 2.0 port and MicroSD reader.  It also has an external TV antenna input, for use with the optional DVB-T, TDMB or 1-Seg tuner.
Onboard storage is between 4Gb and 8GB, and there's a 600MHz processor (type unknown) and 512MB of RAM; apparently that's good enough for outputting HD video.  Mio will also offer you a snap-on QWERTY keyboard accessory, along with the usual in-car mounts, and you can use their Mio Spirit route guidance system just as you would on a dedicated PND.
OS is Windows CE 6.0 with Mio's 3D UI sitting on top, and there's a full run-down of specs and supported media codecs in the gallery below.  No word on pricing; hopefully we'll find that out when the Moov V780 officially launches at CeBIT 2010 this week.
[via Best Tablet Review - thanks Andy!]