Mini MP3 Cam DVR camcorder crammed into iPod shuffle looking case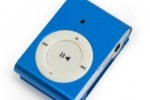 We all know that the new iPod nano 5G debuted a while back has a camcorder inside, but can't shoot still shots. A Chinese company called Xiangyun Industry Co. has taken what looks to be an older clip style iPod shuffle and crammed a video camera and a still camera inside.
The Mini MP3 Cam DVR has a 1.3MP camera with a video resolution of 640 x 480. It can record video at 20 frames per second and has a still photo resolution of 1280 x 960. Photos are taken in JPG format and video is in AVI format.
Storage is to memory cards up to 8GB, which are not included. I guess the point is that the device looks like an iPod, but is a spy cam instead. The device has to be ordered in a minimum of 100 to 199 pieces and prices range from $15 to $30 depending on how many you buy.