iPod nano 5G Video Review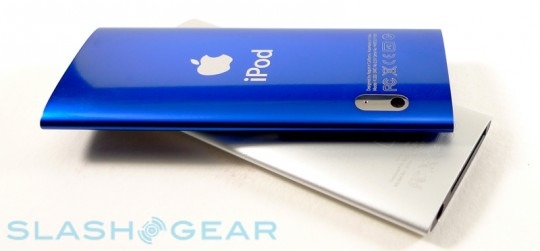 Apple's traditional September iPod event last week failed to deliver the all-encompassing camera update widely predicted, leaving the compact fifth-generation iPod nano as recipient of the most attention.  With video recording capabilities, a new radio and even a pedometer, the nano 5G certainly has a longer spec-sheet; has it managed to do what Steve Jobs predicted, though, and stomp neatly over the Flip camcorder?  SlashGear set to finding out.
In terms of visible hardware changes, Apple has further reduced the scroll wheel and pushed it even lower to accommodate a bigger, 2.2-inch display.  The center button in the middle of the wheel remains the same, thumbable size, but the touch-sensitive strip encircling it has become tighter.  While that slightly impinges on easy scrolling, we're glad of the 0.2-inch larger panel that makes a surprisingly big difference to video enjoyment.  While at 240 x 376 (compared to the nano 4G's 240 x 320) it's still not true 16:9 widescreen, the black letterbox bars are trimmed even further down.  Inside, there's the same 8GB or 16GB of flash storage.  Otherwise, despite being shinier than the 4G, the nano 5G is ostensibly the same hardware at first glance.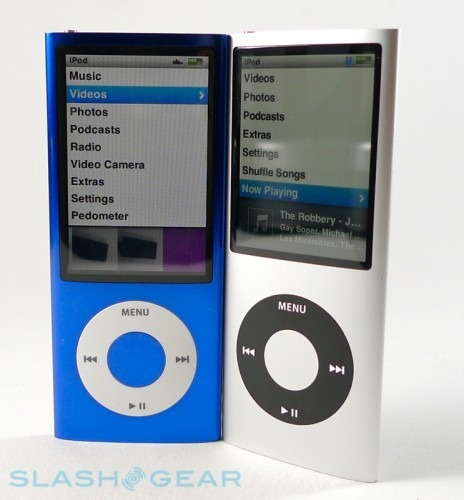 The biggest difference between the iPod nano 5G and its predecessor is, of course, its video camera capabilities.  Despite the dimensions staying exactly the same – meaning the nano 5G is still impressively thin and narrow – Apple have found space to squeeze in a VGA resolution CMOS module and microphone.  It's worth noting that this is only for video capture and not still images, which Apple say require higher-quality optics than they could fit into the nano 5G's shell.
Sample video:
[vms 3cef72e03aa9d980c7ec]
Still, if you've been weighing up buying a new PMP or one of the numerous budget camcorders – such as from the Flip range – then the nano 5G could tick both of those boxes.  Capable of 640 x 480 30fps recording, the iPod can't really be compared to the latest HD-quality standalone models, but if you're willing to make do with standard-definition footage of the sort you might get from a feature-phone then the nano 5G will certainly suffice.  As with all such cameras you'll get best results with bright lighting and little movement, since the nano 5G handles panning with only fair results and dark environments hardly at all.  Colors are biased toward blues and greens, which can lead to unusually tinted skin-tones, especially indoors.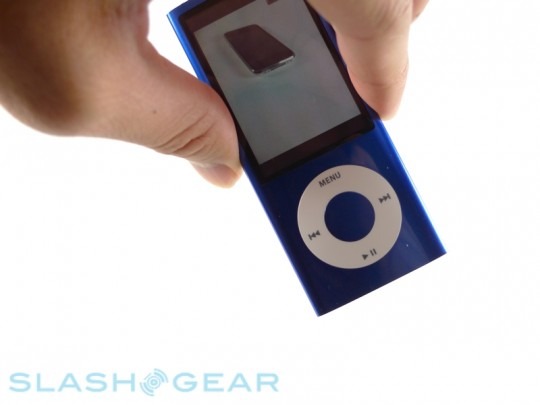 Apple throws in fifteen special effects to make up for it, and they'll likely be well received by the impromptu-footage market the nano 5G's optic is aimed at.  As well as the usual sepia, black & white and negative effects there are some more unusual ones, like a "cyborg" view reminiscent of the Terminator films.  Turning them on is easy, and requires merely holding down the center button and choosing from the grid of sixteen thumbnails – 15 effects plus 'normal' – which all show real-time previews.  That does mean it's not possible to switch an effect on or off during recording, since the center button is also used to start and stop clips. You can also shoot video in various orientations, depending on which way up you're holding the nano 5G; that's handy, since the camera lens – positioned right in the lower corner – can be easily covered up with a finger accidentally.
Another new addition to the nano 5G – and one much asked for – is an FM radio.  As you'd hope, Apple have taken advantage of the fact that their new radio is integrated into a PMP with plenty of storage and given it the sort of live-pause capabilities you may be more used to on a TiVo PVR.  Not only do you get RDS – to show station ID and, if supported, track ID – together with manual and auto tuning, but you can pause live broadcasts for up to 15 minutes and then resume them later.
That's useful if your phone rings or you're interrupted while listening to a favorite show, and you can scroll through the buffered recording to skip past adverts and the like.  Unfortunately there's no way of saving those recordings, nor extending the buffer length – the nano 5G automatically deletes anything older than fifteen minutes – and you can't set the iPod to record at a set time or on a different station to the one you're tuned into.  What Apple does allow, unsurprisingly, is for you to keep a list of tracks you've heard and like, and then buy them later through the iTunes store.  This works via the RDS data, so if your preferred station doesn't ID their playlist that way then it won't work on the nano 5G.
As with most other PMPs, the nano 5G uses the headphone wire as an antenna for FM reception, though you're free to use the included set – which are as mediocre as ever – or your own pair.  There's no Bluetooth A2DP, as you'll find on the iPod touch or iPhone 3G/3GS, though the integrated mono speaker does prove useful for showing off short video clips.  Given the size Apple has had to accommodate that speaker, however, it comes as little surprise that it's relatively tinny and quiet.  Thankfully, plugging in a set of reasonable aftermarket headphones shows that the nano 5G is certainly capable of some decent sound reproduction.
Elsewhere the spec sheet reveals a pedometer, which can be used with the new Nike+ tracking website; this tracks steps (walking only, Apple say, since jogging can confuse it) via the accelerometer, and can either maintain a simple total or count down from a user-set goal.  Like other jolt-based pedometers, the nano 5G is nowhere near 100-percent accurate, regularly counting more or less than the actual number of steps we took.  There's also a voice recorder which captures 128kbps AAC stereo files from the in-built microphone, and which produced reasonable results when relatively close and facing the back of the iPod.  If you're hoping to use the nano 5G to record lectures, say, we'd recommend an external microphone which should manage better range and clarity.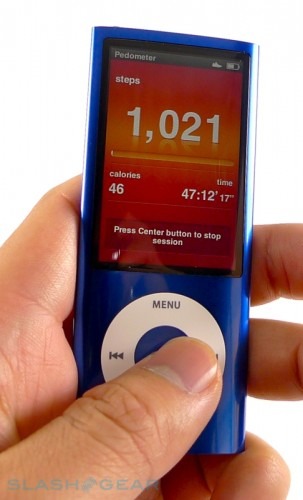 The same shake-to-shuffle and Genius Playlists from the previous iPod nano are still present, together with Cover Flow navigation, but the nano 5G also borrows VoiceOver from its iPod shuffle sibling.  Just as the screenless PMP does, you can now set the nano 5G to read out track information, artist and other details, making it far easier to operate the PMP without looking at the display.  Strangely, though, there's no way to turn off VoiceOver from the iPod itself, at least not that we found; instead, you have to disable it in iTunes.
iTunes is also used to manage tagged songs from the radio and voice recordings, while video clips are handled by iPhoto.  In the process they're automatically rotated so as to show up properly no matter how you were holding the nano 5G to record them.  From there it's straightforward to upload to YouTube.
Apple rate the new nano's battery as good for up to 24 hours of music playback or 5 hours of video playback; meanwhile you can recharge up to around 80-percent in 1.5hrs, or 3hrs to 100-percent.  We've certainly little doubt that the nano 5G has some serious legs on it when it comes to media playback, but we've noticed that – in our heavier testing of its video recording capabilities – that does impact battery life more significantly.  It's too early to suggest exactly how long the iPod would last solely recording video, not that it's even a likely usage pattern, but if you're planning on shooting plenty of footage then expect to be recharging more often than you would a nano 4G.
With picture quality more on a par with a cellphone, the iPod nano 5G probably isn't going to replace a standalone camcorder; still, that's not what Apple are expecting.  As Steve Jobs said at the new PMP's launch last week, the video recording is a "free" extra, one that will likely cut into upcoming sales of SD budget camcorders.  As the old adage goes, the best camera is the one you have with you, and if it's integrated with your iPod then there's all the more likelihood that you'll be capturing video with that rather than a separate, dedicated device.
Yes, there's no zoom or still-photography, and no the quality isn't great, but it's another string to the iPod nano's bow and – given it would be hard to identify one are of the music experience Apple could address without treading on the toes of the rest of their range – neatly differentiates the nano 5G from its predecessor.  Not a PMP you buy for its video capabilities, no, but the fifth-generation refresh will likely keep the nano neatly ahead of its competition.
Unboxing iPod Nano 5G Video
[vms 3eee609d05b90c14222f]