Minecraft Servers Halloween begins with spooky details!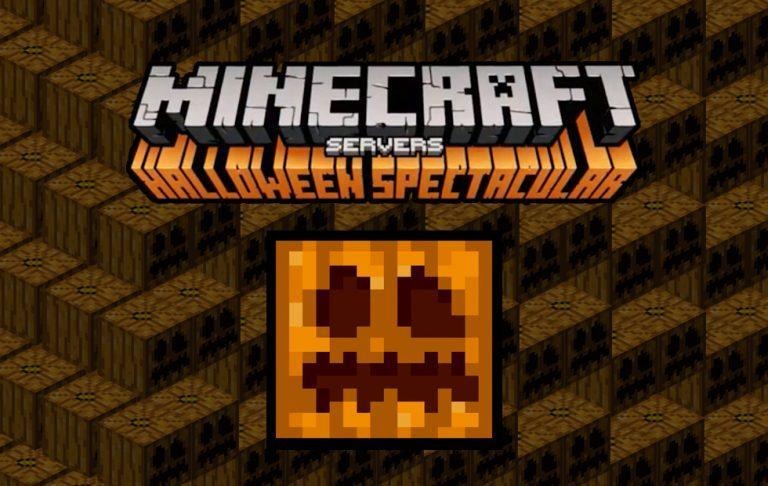 This week the folks in charge of Mincecraft Servers have revealed the Halloween Spectacular in full. This event will pour over the online version of Minecraft, taking over the Minecraft Servers universe as it does so. This update will have spooky effects in servers hosted by Mineplex, InPvP, and Lifeboat from now until Halloween.
Server-based spooky happenings
In Lifeboat, there'll be a hostile Zombie Invasion. Then another one, then another one after that. The Lifeboat lobby will be full of undead, basically – as well as pumpkins, glowing ghoul water, and other "creepy-crawlies" too. There's also a "Haunted House parkour course" inside.
Mineplex brings on The Pumpkin King to lord over the wasteland. This server will bring Trick-or-Treat boxes as well as random challenges in the form of Flaming Pumpkins. Defeat a flaming pumpkin creature and users will be able to win Top Rank, Gems, Skeleton Keys, and/or Treasure Shards.
Inside InPVP, users will find a Haunted Mansions SkyWars map. There'll be some limited time pets for purchase on this server, while the InPVP lobby will include houses for trick-or-treating. It's going to be spooky.
How to connect
In any of the official Minecraft apps, users will be able to find a "Servers" tab on their startup page. Users will need an Xbox Live account so as to have a Gamertag. While other platforms may enter for free, Xbox One users need the full-on Xbox Live Gold subscription to continue.
From there, hit up Lifeboat, Mineplex, and InPVP any time from now until the 31st of October for Halloween bits and pieces. We'll be haunting all three – don't be surprised to see us. We're dressing up as Chewbacca. Every single one of us.
OF NOTE: While this event takes place on Minecraft Servers only, there are plenty of other Halloween-themed items, maps, and oddities of all sorts in the Minecraft Marketplace right now. I recommend the classic Halloween park map as well as the Star Wars skins for proper Halloween dress-up.