Minecraft sales top 15 million in 2012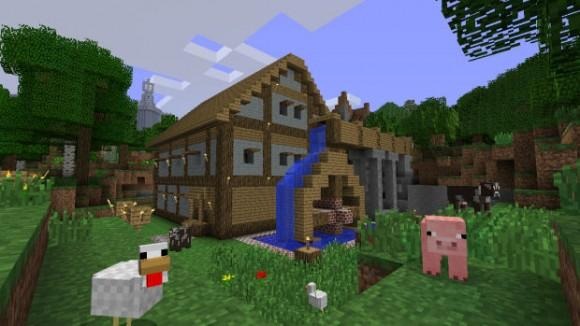 We already knew that sales for Minecraft: Xbox 360 Edition came in over the 5 million mark for 2012, but today we're getting a broader picture of the sales the franchise managed last year. Mojang has shared a list of Christmas Day stats for all versions of Minecraft, and in doing so, the company has also revealed how many sales each version brought in throughout 2012. Needless to say, the numbers for each impress, while the final tally for the franchise in general is pretty staggering.
First though, let's check out those Christmas stats. Mojang says that on December 25th, 70,808 players either purchased or redeemed codes for the PC and Mac version of Minecraft. When we zoom out and look at the week of December 24th, that number grows to 241,845 purchases. In all, the PC/Mac version of Minecraft brought in 4,177,843 sales throughout the year, which isn't bad for a game that has been available for a number of years already.
Of course, while the PC version's sales were impressive, they couldn't top the sales of the Xbox 360 version. Minecraft: Xbox 360 Edition was purchased 100,416 times on Christmas day, jumping up to 325,591 sales during the larger Christmas week. 5,002,370 sales was the final tally for Minecraft: Xbox 360 Edition, which again is something that we already knew.
With the huge number of people getting a new smartphone or tablet on Christmas day, it definitely isn't surprising that the sales for Minecraft: Pocket Edition managed to come in on top of the Xbox 360 and PC versions. The mobile version of Minecraft netted 283,939 sales on Christmas day, 706,419 on Christmas week, and 5,899,727 for 2012 as a whole. Both iOS and Android sales are counted in this figure, so it would appear that Mojang is cleaning up across all platforms.
Add up all of those numbers for 2012, and we come to 15,079,940 sales for all versions of Minecraft in 2012. That's hundreds of millions of dollars for Mojang, so the studio is definitely sitting pretty as we head into 2013. We imagine that Minecraft sales will continue to be strong as more players decide to finally jump on the bandwagon and see what all the talk is about, so don't be surprised to hear Mojang touting similar numbers at the end of this year. We're you one of the millions who picked up Minecraft in 2012?
[via Mojang]