One of the strangest break-out hits of our current generation of multi-platform games is Minecraft, a pixelated game that's headed to the PlayStation 3 this month. While the original Xbox 360 version was released all the way back in May of 2012, this 2013 PlayStation 3 release will be exactly the same, or as similar as the developers at Mojang could make it. This December 17th release also heads off the push to both the PlayStation 4 and PS Vita which will be occurring inside 2014.
The last we heard of Mojang's Minecraft headed to Sony devices was earlier this year when Notch gave the full thumbs up to release. After receiving a Gold PS1, this originator of the radically popular game decided it was time the teams made the port to Sony's various platforms. Announcing the PlayStation 4 version, we were also to understand that this game would be released in time for the PS4's launch. It would appear that there's going to be a bit more of a wait on top of what we've already experienced.
Q: Does Minecraft: PS3 Edition feature everything from the other versions of Minecraft?
Minecraft: PS3 Edition comes with everything present in other console versions. They're pretty much identical to play, and will be developed in tandem from now on.

Q: Will Minecraft: PS3 Edition feature DLC texture packs and skins?
Downloadable skins and texture packs will be available from PSN soon after release.

Q: Will there be PlayStation-specific content?
PlayStation-specific skins and texture packs would be cool! Fingers crossed, eh?

Q: Does Herobrine feature in Minecraft: PS3 Edition?
Probably not.
That said, it's quite likely that that game will be released for just as inexpensive (relatively speaking) a price as the Xbox 360 version at $19.99 USD. At this time it's also unknown what sort of interoperability will be offered for users working with the PS3 vs the PS4 versions of the game.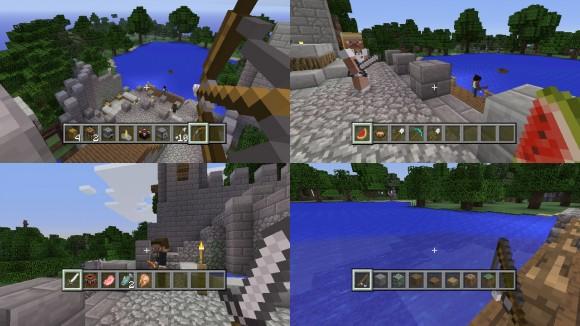 Above and below you'll see a series of screenshots from the PS3 version of Minecraft. There are also versions of the game for the web browser, Android, iOS, and essentially everything in-between. Have a peek and see what you make of it!