Mimoco Expands MIMOBOT Legends Line With Washington And Lincoln Flash Drives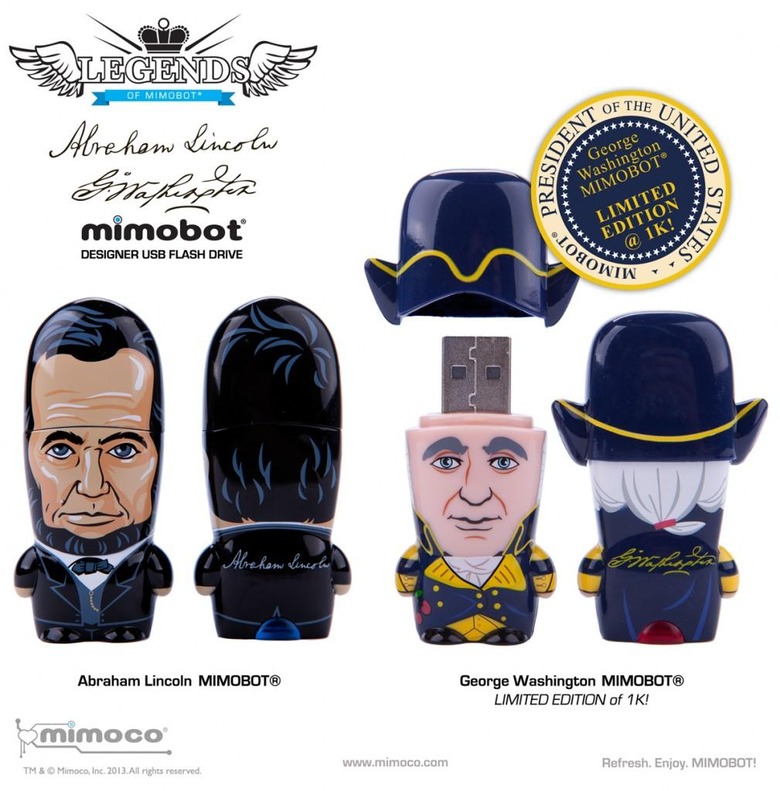 Mimoco's Legends of MIMOBOT Series has a wide range of characters in it, such as the Star Trek X line that was released back in November, and the Bruce Lee drive before that in August. Now the company has released its latest characters, these ones in honor of President's Day – George Washington and Abraham Lincoln USB flash drives.
The Legends of MIMOBOT line of drives is meant to commemorate the legends among us, whether they're cultural icons, certified geniuses, or your friendly neighborhood superhero. In line with the series are the U.S. Presidential flash drives, one featuring the likeness of Abraham Lincoln, and the other of George Washington, both decked out with their most distinguishing characteristics, such as Washington's suit and Lincoln's bow tie.
Both drives are being released only in limited editions, and as with other drives in the series, they come loaded with content pertaining to which ever character you choose. Buying the George Washington drive, for example, will get you Washington-themed avatars, wallpapers, and icons, while the same applies with the Lincoln drive. The Washington MIMOBOT is hand-numbered and only 1,000 are being produced.
Both drives can be had in 8GB, 16GB, and 128GB varieties, priced $19.99, $29.99, and $129.99, respectively. Both drives are USB 2.0, and are compatible with Windows and OS X. The drives feature a one-year limited warranty, and measure in at a fairly large 2.5-inches high by 1-inch wide. You can grab your own now directly from Mimoco.
[via Mimoco]