MIMOBOTs go massive with Uglydoll Flash Drive family expansion

This week it's time to get goofy with a brand new set of updates to Mimoco's Uglydoll MIMOBOT Flash Drive collection – Big Toe included! The collection you're seeing here has the Big Toe character leading the way in this newly massive 128GB USB 3.0 stick set, each of these little monsters working not only as a storage stick on their own, but as a repository for a suite of wallpapers, icons, and avatars right out of the box! That's so cute it's sickening!
With the Big Toe you're going to be bringing this "unstoppable force of knowledge" to your computer the same way you've brought him into your heart with the plush he's been represented in before today. This cute beast joins Babo, Wage, Ice-Bat, and OX in the full Uglydoll collection. This whole collection is now available in 128GB storage stick size as well!
"Mimoco has always had a pretty awesome relationship with David Horvath and UGLYDOLL. We couldn't be happier to produce yet another character with Pretty Ugly, especially since Big Toe is an original UGLYDOLL character from 2007." – Mimoco PR gal Jessica Smiley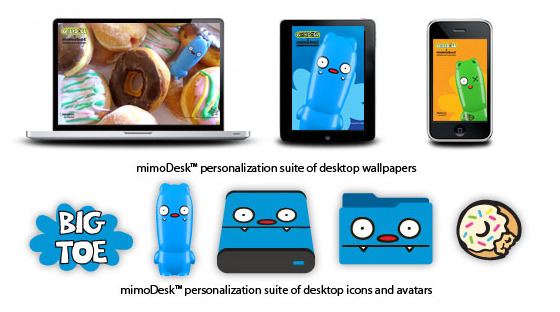 Each little bot contains its own unique collection of bits and pieces for the greater good of your notebook, smartphone, and tablet the first time you plug them in! You'll have wallpapers for your machines that tip the greatness of the drive itself, icons so you can be sure you're seeing the right monster, and icons for the rest of your folders if you like as well. It's all lit up real cool – and each of them will only cost you a cool $24.94 for starters.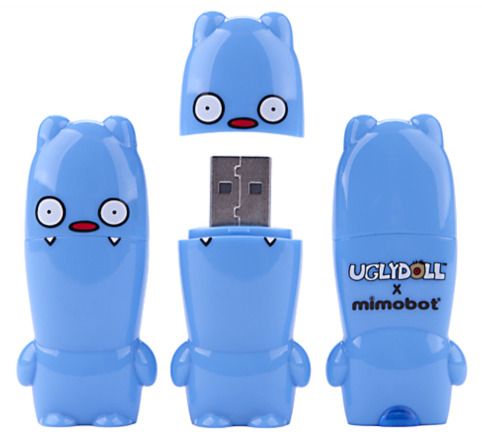 Be sure you're picking up your Big Toe today or be forever mournful: there's only 2000 of these limited-edition oddities in the world! Have a peek at the rest of our Mimoco coverage in the timeline below, and be sure to let us know if you're a proud owner of a MIMOBOT or six already!