Miller Preps One-Second Ad For Super Bowl XL III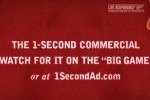 The cost of the 30-second spot for Super Bowl commercial has been skyrocketing, cost as much as 3 million dollars now on the upcoming big Sunday game; and apparently 100k per second appearance is way too steep for Miller High Life, the company is pitching one second commercial to be aired during the Super Bowl XL III break.
[promote video after the cut]
The company remains mum on the content of the ad, but has created the 1secondad.com web site to promote the straight-to-the-point one second ad campaign.
You remember Toshiba fumbled on Super Bowl XL II, failed to deliver the promising comeback campaign for the now defunct HD-DVD. There's no joke in Super Bowl Ad, don't promise dinosaurs you can't deliver. Forget those 3D ads with dorky glass, I can't wait to see how Miller pull the one-second ad off.