Milk app pulled from App Store while team regroups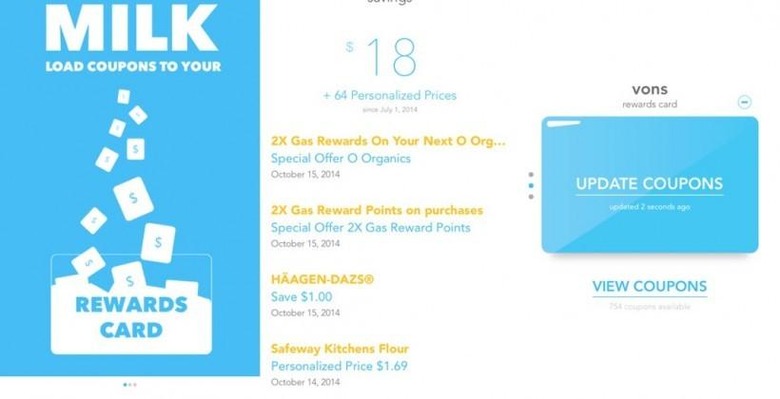 Milk, the app that potentially saved you quite a bit of cash at the grocery store, is going on sabbatical. In an email to users, Milk says they're puling their app from the App Store and ditching support for it. don't worry, though, it's not long term. Milk says they're concentrating on "working with manufacturers and grocery stores on a new version of Milk that delivers a better experience for more people". There was no timetable for return noted, nor did they say what the new-look Milk would change.
The app worked simply enough: log your rewards card info into the app, and it automatically checked for coupons when you refreshed the app. Go shopping, and the things you bought would be discounted automatically via your grocery store rewards account, if a coupon was available.
It was like digital coupon clipping, and it was magical.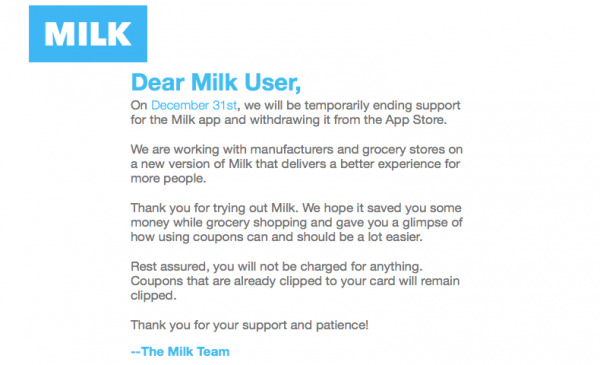 If you were a Milk user, the Development team says any coupons you have saved to your card will be saved, so no worries there. The Milk crew also says no user will be charged for anything; sensible since they gave three months free use on launch. After the 90-day trial, Milk was due to cost $9.99/month.
The core functionality of Milk is likely to remain, at least with regard to coupon usage. It's possible the team is just looking for more manufacturer deals to warrant the $9.99 spend for users, but they didn't say as much.
For now, we suggest refreshing Milk to see if you can snag a few more coupons before support on the back end goes away for some time.