Mighty No. 9 preview screencaps shared by Mega Man creator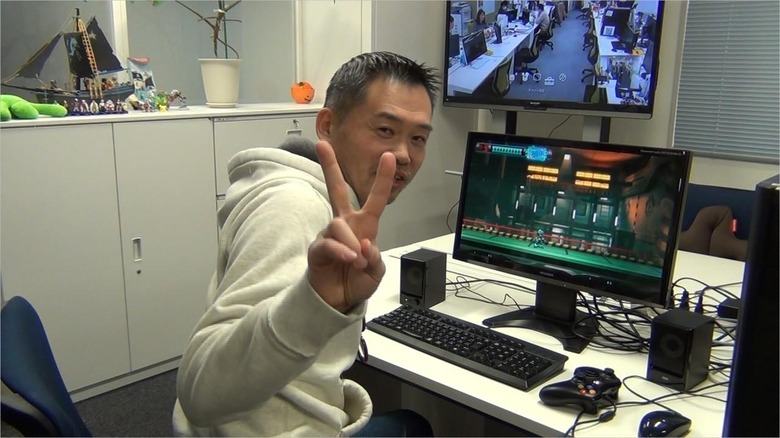 This week the man who created Mega Man has shown a few new screenshots of Mighty No. 9, the next-gen game Comcept developer studio are working on – and boy, is it a simple construct. What you'll be seeing here is a couple of angles on what one of history's most infamous game heros has been up to courtesy of Keiji Inafune, showing off some of how this little fellow will be getting along with his placeholder enemies. That is, after all, what we're resigned to looking at for quite a while here.
This preview shows just a few different steps in the development of Mighty No. 9, showing how we'll still be side-scrolling, but with a certain 3D-ish mix. Here Mega Ma- I mean Mighty No. 9 will be blasting his way through some four-footed robots with plenty of 2014-flavored amounts of bits and pieces. This is a game that'll take on the current abilities of the graphics processing universe with a retro flavor, that's for certain.
These bits expand just a tiny bit on where the game is headed. Earlier in 2013 we found that the public wanted a Mega Man successor so bad, they over-funded the crowd-funding venture Keiji Inafune set up by a massive amount. Having asked for a cool $900,000 USD initially, the Mighty No. 9 funding campaign ended with $3,845,170 USD – that's nothing to scoff at.
This particular campaign also made waves with their working with the folks at The Humble Bundle for ditital reward fulfillment and FanGamer for physical items – a well-rounded set of team-ups for the future of crowd-funded campaigns like this!
Platforms galore, extended features, and more detailing than the original campaign could have ever imagined – or so it seemed at first – this game is headed for reality sooner than you expect! Stay tuned!