Midsize SUVs May Not Be As Safe As Drivers Think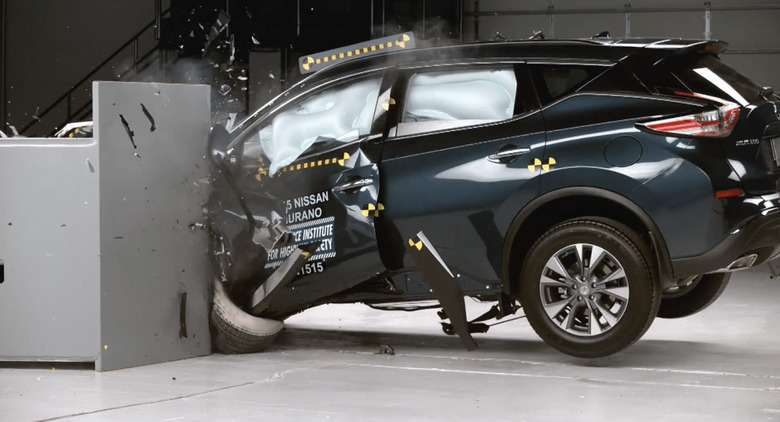 Many midsize SUVs so popular for their perceived safety higher up than other road users are actually underperforming in key crash conditions, a new batch of IIHS testing concludes. The segment, which borrows the styling cues and elevated cabin of full-size SUVs but with a smaller footprint more suited to urban driving, has become increasingly in-demand, particularly among young families. However, according to IIHS there's no guarantee that they're up to some of the more common collisions.
The big peril for the cars is the small overlap front crash test, something which many other vehicles have fallen foul to in recent years. Introduced by the Insurance Institute for Highway Safety as a measure of how safe occupants would be if the car hit a telephone pole or tree, thus bypassing a large proportion of the crush zones, it's highlighted potential shortcomings in structural stability that existing tests weren't flagging.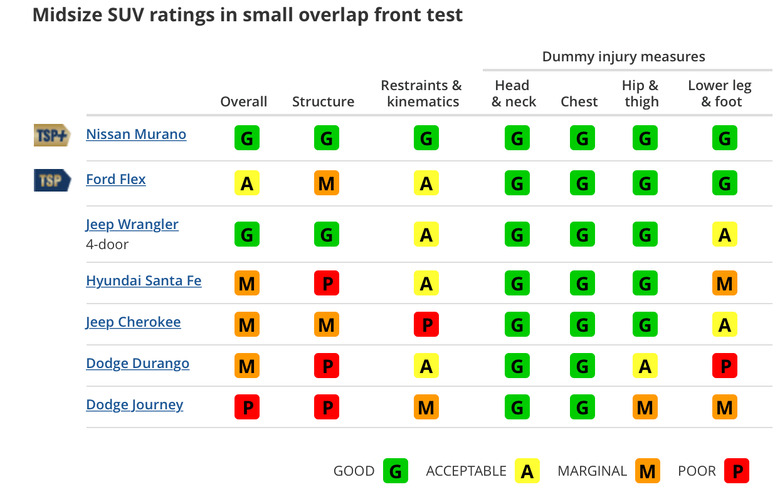 Last year, it was several compact cars that felt the brunt of the overlap crunch. This year, seven 2015 model year midsize SUVs have been put through their paces, with only three getting good or acceptable ratings.
Top of the class is the Nissan Murano, particularly when the optional front crash prevention system is installed. It gets a Top Safety Pick+ rating, like the Toyota Highlander in previous tests.
The Ford Flex comes in with a Top Safety Pick score, joining the Chevrolet Equinox, GMC Terrain, Kia Sorento and Nissan Pathfinder.
The small overlap test isn't the be-all and end-all of hurdles, however, as the Jeep Wrangler 4-door discovered. While it did well in that one part of IIHS' assessment, it got dinged for its protection in side and rear collisions, and in cases where the car might roll over.
Bringing up the bottom of the listings are the Hyundai Santa Fe, Jeep Cherokee, Dodge Durango, and Dodge Journey, though only the Journey earns an ominous "Poor" rating overall.
The problem is that, while manufacturers have been quick to adapt to the relatively new tests with their new models, existing cars can only really be patched up to do the best they can in the IIHS process. That, the testing agency says, is leaving a large chunk of vehicles underwhelming when it comes to safety.
"Chrysler, Dodge and Jeep have had some successes with redesigned models, but they haven't done much in the way of interim improvements," IIHS Chief Research Officer David Zuby argues. "As a result, they still have many models that rate poor or marginal."
SOURCE IIHS