Microsoft's Sinofsky on Windows 8: "PCs without compromise"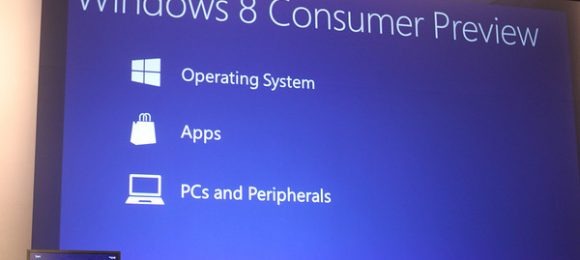 At the official Windows 8 Consumer Preview this week during Mobile World Congress 2012 in Barcelona, Steven Sinofsky stepped on stage to say that Microsoft was "super excited" about the event and the release of the Consumer version of Windows 8. Sinofsky continued by saying that this new system will take what Windows is already, a system that allows you to do what you want and what you need to do when you need to do it, and improves it. Speaking on how systems across the technological landscape make you make choices based on the form factor of the hardware and how this is a limit, Sinofsky noted that "a no compromise user interface" was the goal of Windows 8, tying mobile phones, tablets, and laptops/desktops.
Operating System, Apps, PCs and Peripherals were shown on screen as the three main pillars of the Windows 8 system for consumers. There have been "significant product changes since the Windows Developer Preview" last year. A whole new level of functionality has been brought to this version of Windows 8 from the kernel all the way up to the user interface.
"How many changes have we been making? Since the developer preview we've made over 100,000 changes to Windows 8." – Sinofsky
The whole system works together with a beautiful, fast, and fluid experience, with the widest range of form factors in the history of Windows, and everything will be beautiful to behold. Stick with us for the rest of the event here on SlashGear through our [MWC 2012 portal] and see our [Windows 8 portal] for all the Windows 8 action you can handle!