Microsoft's scanner app, Office Lens, lands on iOS & Android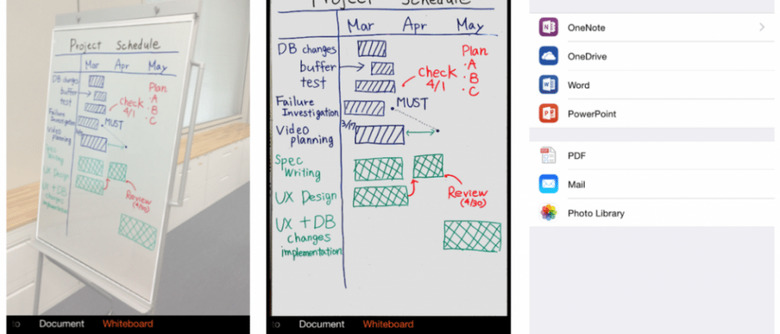 To better combat the need for actual paper, Microsoft is rolling out a new app. Office Lens, which is available starting today for iOS and Android, allows you to scan a piece of paper with your mobile device's camera, then have it morphed into an editable digital copy. You can also scan a whiteboard presentation if you like, and pics don't have to be taken straight-on. If you're cramped for room, you can take a picture at an angle, and the app will turn it to a forward-facing document for you.
Office Lens uses an Optical Character Recognition engine to turn your scans into editable documents, but they're not JPEGs you simply annotate. The documents end up as actual Word, PowerPoint, or PDF files; all have editable text, tables, and images (should the document have those).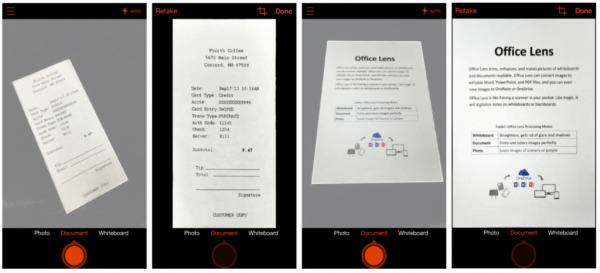 Further leaning you into the Microsoft ecosystem (Word and PowerPoint were just he beginning), you can also send your scans to the OneNote app or Microsoft's cloud storage solution, OneDrive.
You can also snap pics of business cards and create contact info, or Post-it notes to better track your obsessive scribbling.
Office Lens isn't the first of its kind. We've seen this from Adobe and Moleskine, and Post-it even has their own app for the very same purpose (though theirs is obviously geared for use with their physical offerings).
This is the first that ties you into Microsoft's platform, though, so those who live inside of OneDrive will likely be all over this one.
If you're on iOS, the app is available today. Android users will have to sign up for a preview version of the app via a Google+ community, which gives them an app with "features similar" to what is described above.
Source: Microsoft