Moleskine Partners With Adobe To Digitize Sketches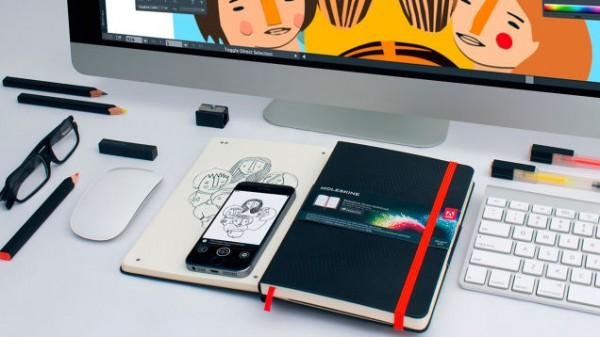 Even though we're increasingly dependent of digital everything, many of us still want a pen-and-paper experience for certain things. Sketching ideas is a great example, especially when you don't have the space for a laptop or a stylus just won't cut it. For those times, Moleskine has teamed up with Adobe to bring you a connected notebook that can take your sketches and notes, then transfer them to the cloud. Even better, they can be fed right into Adobe Photoshop or Illustrator.
The notebook itself has pages with dots at all four corners which let the app (iOS only, sadly) know where to scan. Right now, the only notebook on offer is an 8x5-inch, 160-page hardcover version which sells for right around $33. There is a pre-order page, but when we visited, it was down. Moleskine says it ships in December.
Once you get your sketches knocked out on paper, Adobe's app takes over. It scans the page, then saves it as a JPG and SVG, so you have a plain image as well as vector art. The dots on the page also ensure that if you snap your page at an angle, the app knows to correct for that, bringing your illustrations to digital life accurately.
It's the second paper-to-digital endeavor Moleskine has made recently, and the Adobe effort is also complimentary to their Evernote partnership. For those with design aspirations, though, the Adobe notebook is like a lot more attractive than anything else we've found.
Source: Moleskine