Microsoft's Cortana challenges Siri with revamped iPhone app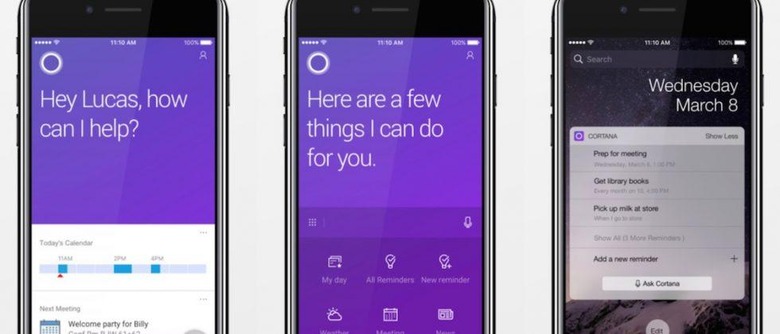 iPhone owners are probably most accustomed to using Siri for their voice-powered assistant needs, seeing as how well it's integrated with iOS. However, along with Google, Microsoft's Cortana is looking to make itself a serious alternative on Apple's platform, and the latest update brings it closer to matching iOS's native option. Released on Friday, the new Cortana for iPhone app has been overhauled with a new interface, and includes several new features that make it easier to use.
Along with a new menu that features a heavy use of purple, the new version of Cortana has improved responsiveness and faster load times. The assistant begins listening immediately after opening, allowing commands or questions to be spoken right away. The app's homescreen can also display information on things like news, weather, package status, traffic, and nearby locations.
The calling, texting, and reminders features have all be redesigned, and when asking Cortana to perform searches, the results will now be displayed on a full page. For times when users can't or don't want to issue voice commands, a menu accessible from the bottom-left of the screen will display a number of "quick action" options.
Microsoft first unveiled the updated Cortana app back in December, bringing it to Android shortly after. Version 2.0 is available to download now from the iOS App Store.
SOURCE Microsoft