Microsoft's 256GB Surface Pro shows up in the US

First revealed late last month in Japan, the 256GB version of Microsoft's Surface Pro appears to be going on sale in the US, although we haven't heard any word from Microsoft on the matter. A 256GB variant has showed up on CDW's website, which is one of Microsoft's authorized retailers, so we at least know it's legitimate from what we can see.
CDW's website lists the 256GB tablet with an availability of 4-6 days and a price of $1,200. The model they have listed comes with an Intel Core i5 processor, 4GB of RAM, a 1080p multi-touch display, and obviously 256GB of solid state storage. Other than the storage size, though, the internals look to be unchanged.
Usually we'd hear an official announcement from Microsoft about the availability of a new model of the Surface Pro, but we're not sure if Microsoft decided just to let the public find out on its own, or if CDW accidentally pulled the trigger a little too early on the product listing. Either way, it looks like the cat's out of the bag.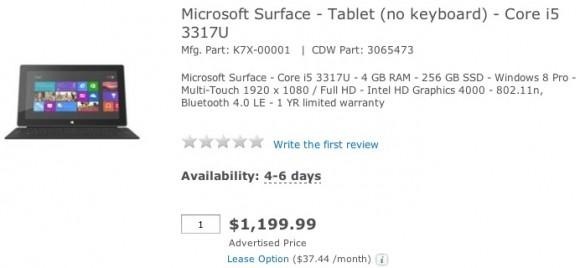 As with other Surface tablets, though, you won't be able to use all of the storage space. It seems like only 208GB out of the total 256GB is usable, but that's quite a step up from the 128GB version's 89GB usable space. The $1,200 price tag is also in line with the Japanese currency conversion from 119,800 yen.
$1,200 seems like a steep price to pay for such a tablet, but seeing as how the Surface Pro is a full-blown computer running a desktop OS, it may not seem like that crazy of a price tag. Of course, you'll have to pay a little extra for a keyboard add-on, but it definitely seems like the way to go if you want something with laptop power, but in a more-portable package.
VIA: WPCentral