Microsoft Zune System Maintenance Taking the Social Offline On the 14th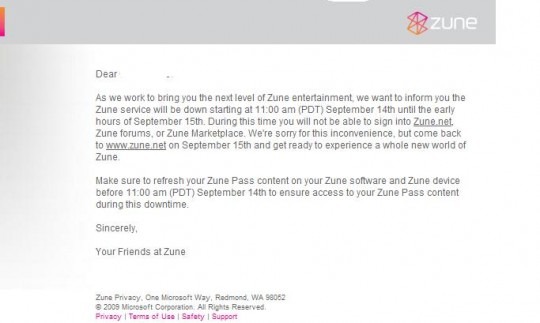 Ah, can you feel it? We're just days away from the launch of the Zune HD, and Microsoft took it upon themselves to go ahead and let us know that some maintenance is scheduled for the 14th. The newsletter was sent out to Zune Pass subscribers, letting them know that access to the Zune suite of applications will be down most of the day starting the 14th.
There's no surprise here, considering that not only is the Zune HD launching, but what's been lovingly referred to as the Zune Software 4.0 will also be launched on the 15th, to match the hardware. The maintenance is scheduled, according to the newsletter, between 11:00AM (PDT) and the early hours of the 15th. It's standard fare to see this kind of thing happen, as the software is retooled and updated. On the software side of it, we're happy to see HD movies get added to the already expansive library of music, podcasts, and television shows within the Zune Software.
While iTunes 9 got a face lift in certain areas, should we expect to see the same thing from the Zune Software? Or are we just welcoming in new content, and nothing for the aesthetically-inclined? We have less than five days to find out, and if you're anything like us, you're excited. Really, really excited.