Microsoft Xbox 360 Gets More Rumors About Those Price Adjustments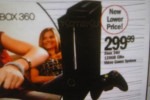 When announcements are imminent, or even weeks away, it gets to the point where every day seems to be filled with he-said she-said shenanigans, and no company is left out in this process. Especially the big ones. Microsoft happens to be one of those big ones, and considering the news from Sony this last week, everyone is (im)patiently waiting for the Xbox 360 to follow suit. And while many thought it was going to happen at GamesCon, it looked like Sony's announcement of the same material might have swayed that decision.
So here we are, looking at "early releases" of Sony's console, and without word regarding anything price-wise from Microsoft. It's not like Microsoft to sit on the most expensive console on the market, so when's the change coming? Well, according to trade publication MCV over in the UK, it could be "in a matter of hours". We're taking that to mean that tomorrow is probably the better bet, but we'd be happy to get surprised and hear an announcement later today.
The announcement, whenever it happens, is set to cover the full-range of Microsoft consoles out right now. Rumors state that the Arcade console could get a price hike; the current Pro model, with its 60GB hard drive, would be phased out altogether; and the Xbox 360 Elite and that 120GB hard drive, would get dropped to the standard $299 fare. If this pans out, stores might not have to just show off price cuts, and actually deliver on the goods.