Microsoft Windows 8 Tablet hardware requirements posted in full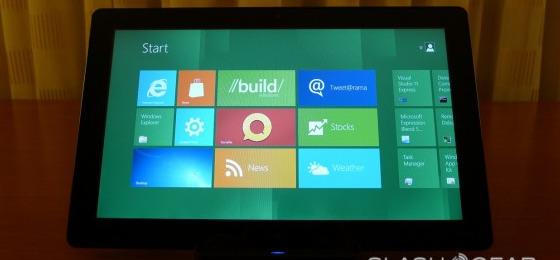 It's time to get powerful with your Windows 8 tablet, developers, as manufacturers are today having the hardware requirements laid out for them for the tablets they're all starting to make for the seasons of love inside 2012. While we've seen a few Windows 8 tablets already, none of them have been consumer ready, so as Microsoft lays down the law here for future devices wanting to run Windows 8 officially, the races have begun. Five buttons, for starters, will need to physically appear on the device for it to be a true Windows 8 device.
The five buttons each tablet will need include power, volume up, volume down, rotation lock, and Windows key. The Windows key will have to be 10.5mm in diameter, but the manufacturer will be allowed to choose what shape it takes on. Another bit each tablet will need is an NFC "touch mark," this being either a sticker or an embossed marking near to place where the tablet's NFC chip, if it has one – this so that people can be sure they're tapping the right bit to future NFC-capable sensors, of course.
Such gems as the following are also included:
1) Any bezel that surrounds the display area must not interfere with the user's ability to interact with the edges of the display area.
2) Digitizer's jitter is a maximum of 1 millimeter over 10 millimeters of travel.
3) Computer display devices can accurately render colors after being calibrated, to within certain colorimetric error tolerances.
Then there are things you're going to love, like the classic CTRL+ALT+DEL changed to Power+Windows button. Other minimum requirements include:
Storage: capacity must have at least 10GB of free space after installation of the operating system

The system firmware must use UEFI, and have secure boot locked down for ARM tablets

Network: WLAN and BlueTooth 4.0 + LE (low energy)

Mobile broadband: If fitted, an assisted GPS radio is also required

NFC: A visual marking of its location on the outer body is required

Graphics: Direct 3D 10 device with WDDM 1.2 driver

Display: Must be at least 1366x768 pixels at a depth of 32bits

Touch Support: It must pass all tests offering at least five touch points

Camera: Must all be capable of at least 720p

Ambient light sensor: 1-30k LUX capable with dynamic range of 5-60K

Sensors: Magnetometer, accelerometer and gyroscope

Connectivity: At least one USB 2.0 controller and exposed USB 2.0 port on frame

Speakers
Then for those of you that love to furrow your brow, the fact that there's a mandatory Secure Boot feature for ARM-based Windows 8 devices should give your face a workout. This prevents hackers from loading, for example, Android onto the hardware. Intel-based tablet will not be required to have the same lock.
You can grab PDF files of the full set of requirements straight from Microsoft if you want to be official about it, this link leading you also to requirements for Windows 8 System and Windows 8 Filter Driver Requirements.