Microsoft Vine: "It's time to get into the bunker"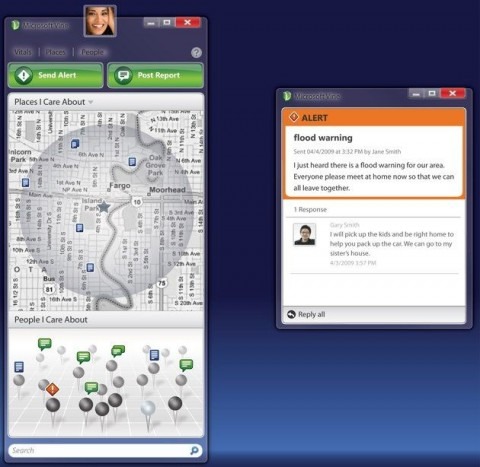 Microsoft have launched a new service which aims to keep groups of friends and family updated and located during periods of crisis.  Eighteen months in development, Microsoft Vine is a system that integrates local news with status updates from Facebook, presented in a desktop client, by text message or by email.  The concept is that local emergencies can be quickly spotted and then group-wide alerts sent out, with users "checking in" to report that they're safe.
Microsoft plan to add Twitter and other social-network integration to Vine, and the system already monitors more than 20,000 local and national news sources together with US government public safety announcements.  Filters can be added to cut out – or let through – certain topics, such as sports news.
However Vine has applications beyond tracking emergencies, and Microsoft envisage it being adopted by clubs and organizations looking for easy ways to manage group memberships.  While at its most basic it sends out alerts and collates "I'm safe" responses, it can also be used to spread longer updates which might replace standard newsletters. 
Microsoft Vine is currently in early beta, and there's no word on whether Microsoft will eventually charge for its functionality.  At present there's no Mac client, but one is promised, as is a Silverlight version and offline functionality.  More details here.
[via WMExperts]