Microsoft Tossup makes app out of lunch choice overload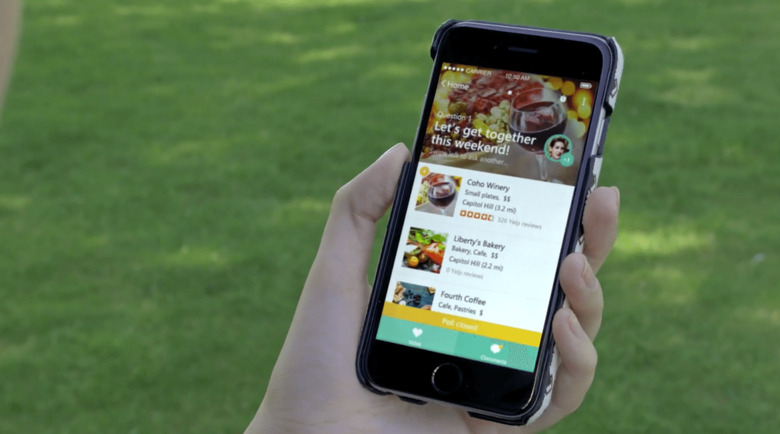 Microsoft may be busy working on Windows 10, but that hasn't stopped it pushing out a new app, Tossup, intended to make organizing meet-ups with friends less painful. The app, out for Android and iOS today, allows a group to make suggestions for venue, activity, and more, and then collectively vote to figure out the most popular option. However, while Microsoft might be framing Tossup around social gatherings today, in reality is has far broader potential applications.
Out of the box, Tossup pulls things like restaurant listings from Bing – including opening hours, reviews, and location – so as to make it easy to filter through options. Once a list of suggestions has been pieced together, it can be opened up to a group vote.
To avoid laggard responses, there's an optional countdown clock within which a vote has to be cast if it's to be counted.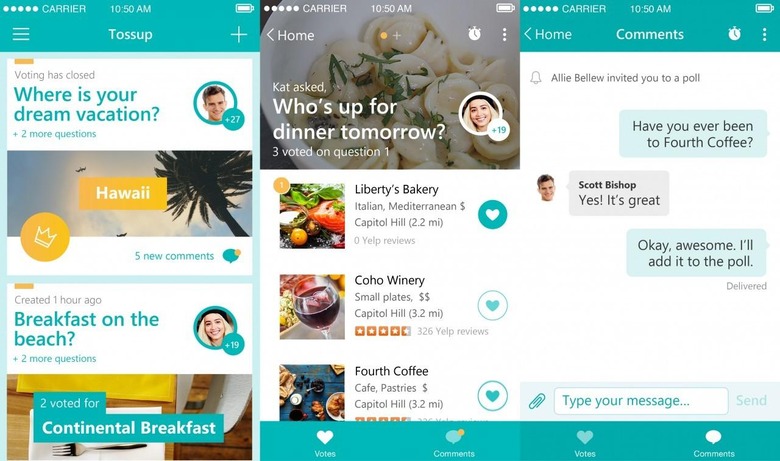 When the final tally is in, a calendar event can be created automatically – no surprise, really, since Tossup is the handiwork of a subteam in Microsoft's Outlook group.
Beyond activity planning, however, the app also allows for broader questions. Since any photo can be uploaded, and the query to be voted on can be phrased in any way, Tossup could be a simple place to crowdsource an opinion on a new pair of shoes, picking between cars, or deciding which movie is worth watching next.
It's part of what Microsoft refers to as its Garage apps, a project where new ideas in software are fast-tracked to public testing to see whether they sink or swim.
Tossup is a free download for iPhone and Android available today, though there's no sign of a Windows Phone version at this stage.
SOURCE Microsoft
MORE App Store; Google Play