Microsoft To Unveil HP-Made Slate PC (Courier?) On Wednesday?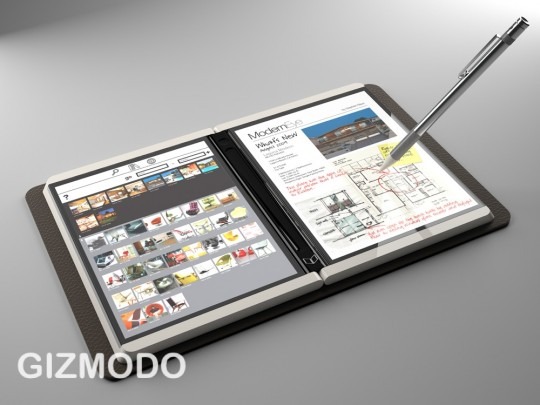 Microsoft's push for the Tablet PC segment has earned them widespread ridicule and relatively minimal market penetration, something that's only beginning to change with the advent of lower-priced multitouch notebooks and netbooks that use a basic touch-UI rather than in-depth handwriting recognition and the like.  So we're not quite sure what Microsoft may have on the cards for CES 2010 tomorrow, what with the New York Times reporting that Steve Ballmer will take to the stage for his company's keynote clutching an HP-made slate.
According to the NYT's sources, the Microsoft slate – it's unclear which branding it will carry – might arrive on shelves by mid-2010, and be focussed on multimedia and ebook content consumption with a multitouch interface.  It's possible that this is the production version of the Microsoft Courier tablet we've seen leaked information regarding since September 2009.
Of course, neither HP nor Microsoft are spilling any details in advance of Ballmer's speech, and the news might simply be a new HP tablet; we're expecting the company's CES 2010 line-up to be revealed in full later this week.  Still, we're keeping our fingers crossed that it does turn out to be the Courier: that would make for an interesting battle with the Apple iSlate expected to arrive later this month.
[Thanks Toby!]