Microsoft tipped to buy Wunderlist developers 6wunderkinder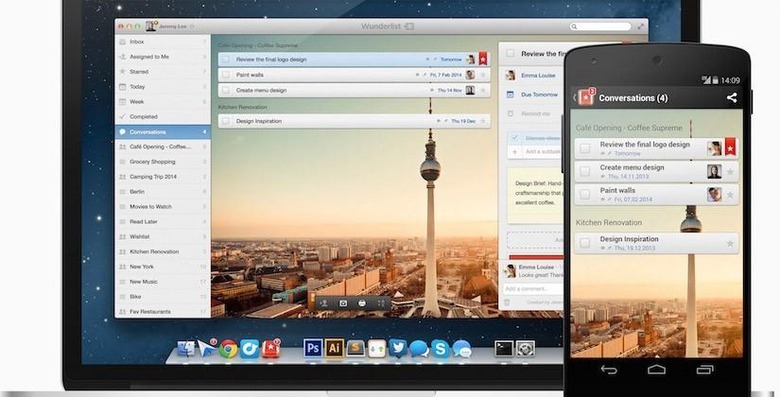 Rumor has it that Microsoft is going to continue its recent trend of buying out popular apps focused on organization and work-related tasks, this time by acquiring 6wunderkinder, the developers behind the popular to-do list/task-management app Wunderlist. This information comes from an anonymous source, but lending a bit of credibility to the idea is the fact that just this week Wunderlist announced a new feature that brings integration with Sunrise, a calendar app that was purchased by Microsoft in February.
The German magazine Manager was the first to hear about talks between Microsoft and the Berlin-based 6wunderkinder, and now VentureBeat has been told similar information from a different source. The word is that Microsoft may be paying an amount up to $250 million, a huge price for an app that started out as a simple, easy to use to-do list, but has grown into an organizational, multi-list, multi-user, syncing phenomenon.
Also adding to the rumor is that when users first opened the Sunrise app after updating to add Wunderlist integration, a message popped up that said "We hope you enjoy this new feature! Stay tuned for more
". Prior to Microsoft's purchase of Sunrise, the company acquired the mobile email app Acompli, with several of its feature immediately migrating to the mobile version of Outlook.
Neither 6wunderkinder nor Microsoft offered a comment on the rumor. But a purchase of Wunderlist would make sense, following the email and calendar acquisitions. The three services could be left to work on their own, or easily used to bolster some of the software in Microsoft's Office suite, including Outlook and OneNote. If the rumor is true, it's likely we'll find out in the near future.
VIA VentureBeat
SOURCE Manager