Microsoft Teams gears up to replace Skype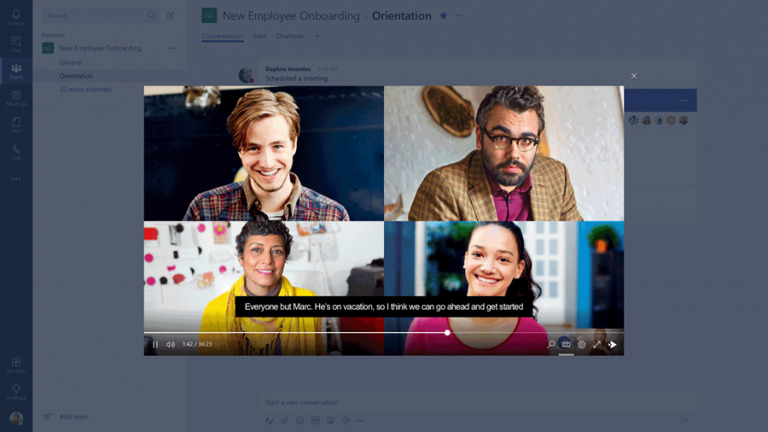 It's been six months since Microsoft Teams rolled out to Office 365 users on a global scale, and in that time, Microsoft's Slack competitor has netted itself a fair number of users. Microsoft revealed today that 125,000 organizations around the world are using Teams, and it has a new plan for intelligent communications that it hopes will draw in the organizations who have yet to make the jump.Microsoft's new initiative seems to be a cloud-based one, and in the short term, it will see the company roll "comprehensive calling and meetings capabilities into teams." This new Teams update was revealed at Microsoft Insight today and detailed over on the Office blog. Before it dived into the specific features that will soon be added to Teams, Microsoft outlined what it wants for the future of business meetings.
For instance, Microsoft envisions a future where Teams will pull up relevant documents for a team to browse before a meeting even begins. While the meeting is taking place, Teams will offer the ability to capture the discussion, transcribing and time coding it so that it can be referenced later. Once the meeting has concluded, a recording of it will be placed in the appropriate channel along with the transcript and related documents and notes, allowing those who may have missed the meeting to get up to speed.
READ MORE: Microsoft Teams – Five Things You Need to KnowIn the more short term, Microsoft plans to add meeting features like audio conferences, which allow team members to call in to meetings by phone. That feature is going live in preview today, and we'll soon see interoperability between Teams and Skype for Business launching as well.
There are also a few calling features going live over the next few months. These will allow Teams users to accept and make calls to PTSN numbers, with a full roster of features that includes call holding, call transfer, and voicemail. It certainly sounds like Microsoft wants Teams to become a one-stop shop for enterprise customers that rely on software as the backbone of collaboration.
With the amount of overlap here, it probably won't surprise you to learn that Microsoft eventually plans on Teams becoming the "primary client for intelligent communications in Office 365," replacing Skype for Business at one point the road. Skype won't necessarily be going away, as those who have a preference for it will be able to keep using it. We'll receive a more in-depth roadmap for Teams next month, while Microsoft promises that a new version of Skype for Business Server will be coming in the second half of next year.