Microsoft Surface Tablet Hands-on [video]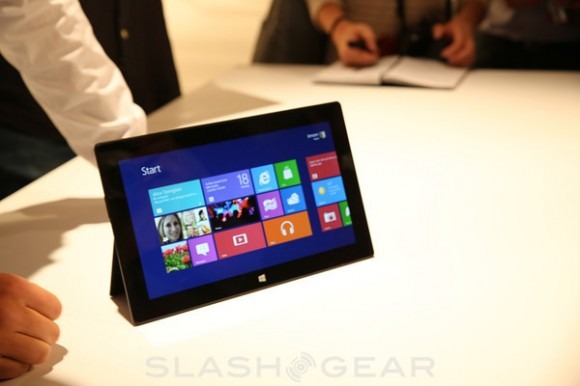 Microsoft has just finished unveiling their new tablet called Microsoft Surface at their big Major Announcement event today — and here it is! They mentioned re-imagining Windows, and now doing the same for the tablet. These new Windows RT and Windows 8 Pro Surface tablets looks pretty impressive, and Microsoft was kind enough to give us a quick hands-on. Lets take a look.
As soon as you hold the tablet the lightweight magnesium frame feels nice in the hand, coming in at only 1.5 lbs and has a smooth PVD finish. The 10.6-inch 1366 x 768 display looked clear and crisp at multiple angles and the tablet is also quite thin being only 9.3mm in thickness as we detailed here. The Windows 8 Pro model will by powered by Intel's Ivy Bridge 22nm processors, while Windows RT will run on an ARM chipset. The first thing that comes to mind is how impressive the thin and sleek 9.3mm chassis is considering they've also integrated a built-in stand to the magnesium body that easily opens for quick viewing of videos. The stand has a small cut-out on the side to easily prop open, and clicks shut firmly letting you know it won't pop open on accident. Sadly the Intel-based unit comes in a bit thicker being 13.55mm thick, and wasn't available for viewing but we are enjoying the Windows RT model.
Now back to the way it feels in hand. Between the well balanced and simple design the Surface feels great in the hand — and incredibly well designed all around. The only complaint would have to be the edges are a bit sharper than we'd hoped for. Microsoft added a unique vent system around the device that will keep heat to a minimum without being blocked by hands or while resting flat on a tablet or bed — these vents cause a slight rough edge though.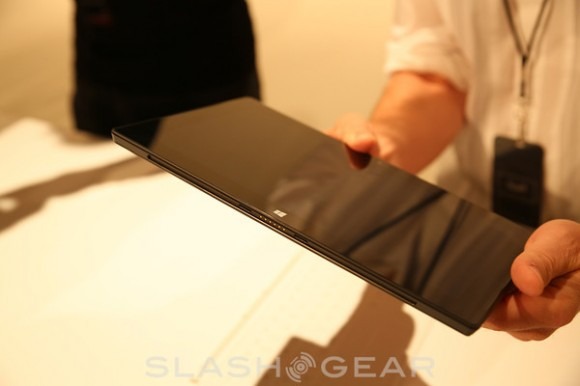 We must say, the entire device feels very polished and well designed. Build quality is superb and very durable from our initial impressions. Then the Type Cover. Microsoft announced a truly "smart cover" that attaches magnetically and doubles as a keyboard, trackpad, and mouse. This is a unique approach but I must say I like the thought. Whether this will be realistic for daily use is another question for later, but so far seems quite excellent.
We'll continue to to update with more details, pictures, and video so be sure and stay tuned right here at SlashGear!