Microsoft Surface SUR40 multitouch table slims bulk & price [Video]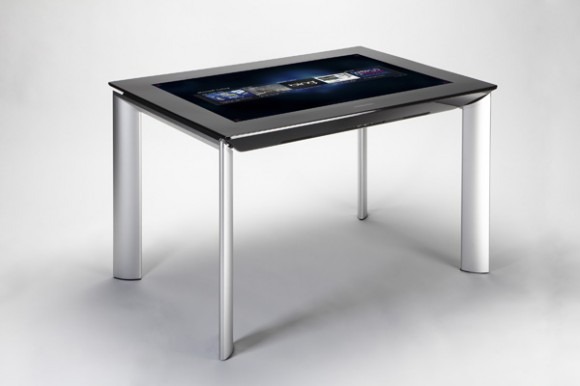 Microsoft has spilled pricing details on its new second-gen Surface SUR40 multitouch table, launched the company's CES 2011 keynote yesterday, and slimming down the original surface into a slick 4-inch thick slab. The new SUR40 Surface 2.0 – which is manufactured by Samsung, and has a Full HD 1080p 40-inch display covered with a sheet of toughened Gorilla Glass – will be priced at $7,600 rather than the original Surface's $12k+ sticker.
Video demo after the cut
While it comes with regular legs, the Surface SUR40 can also be wall-mounted. That's because it no longer uses cameras underneath the table to recognize finger-touches, but a homegrown PixelSense technology which can cope with more than 50 simultaneous touch-points from fingers, hands and objects.
An AMD Athlon II X2 Dual-Core Processor 2.9GHz paired with the AMD Radeon HD 6700M Series GPU featuring DirectX 11 runs an embedded version of Windows 7 Professional 64-bit, with a Surface 2.0 SDK due later in the year for developers to code apps for the new table. Microsoft expects the Surface SUR40 to begin shipping later in 2011, and has already signed up Red Bull, Royal Bank of Canada, Fuji Film, Dassault Aviation and Sheraton Hotels and Resorts as early adopters.
[via ZDNet]