Microsoft Surface Pro 2 battery life vastly better shortly after launch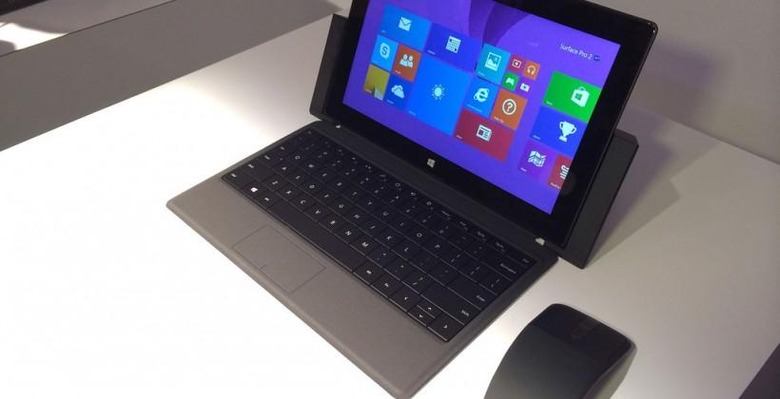 The
is significantly more battery-efficient than it was when it first launched on Oct. 22, thanks to a firmware update pushed by Microsoft shortly thereafter. It's a whopping 25% more battery-efficient than it was in terms of intense Web browsing, and a noticeable 16% better when running video. Anand Lal Shimpi of AnandTech ran the tests that demonstrated the improvement and ranked the results against various other devices.
The Surface Pro 2 now lasts around eight hours on a single charge in real-world use. In the Web use rankings, the tablet rose five places past the Surface RT, Samsung Galaxy Tab 3 10.1, Surface 2, and the Google Nexus 10 to sixth place behind the Galaxy Note 10.1, ASUS Transformer Book T100, iPad 4, the 2013 Google Nexus 7, and NVIDEO Shield (in ascending order.) The rankings themselves obviously compare apples and oranges, but it's the marked rise of the Surface Pro 2 that renders these battery-efficiency results meaningful.
As for video use, the machine improved, but not as much as it did in Web browsing tests. The firmware update elbowed the Surface Pro 2 just one spot up, past the respectable Samsung Galaxy Tab 3 10.1. The less impressive battery performance improvement was slowed mainly by the limitations of the Haswell processor used in the Surface Pro 2; the Broadwell processor will largely remedy this, go the rumors.
Concurrent with the firmware update, a software update also fixed the machine's tendency to corrupt the video display. As for why the Surface line is less battery-efficient than, say, the MacBook Air, the author of the tests confirmed with Microsoft that the power consumption is mainly due to the preponderance of sensors, the higher resolution display, the active digitizer, and the capacitive touch.
SOURCE: