Microsoft Surface Laptop Review: The Anti-MacBook Pro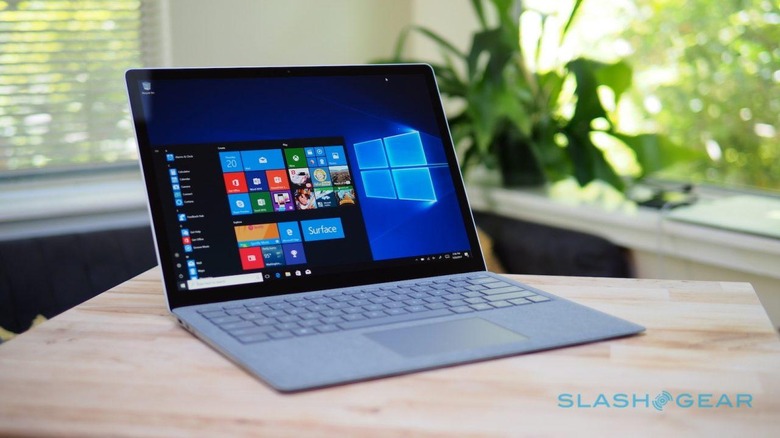 EDITORS' RATING: 8/10
Microsoft knows how to make sleek hardware. If the Surface Book is handsome but bulky, and the Surface Pro is more minimalistic but suffers a less-compelling keyboard, then the Surface Laptop falls happily in-between. You don't get a fancy detachable display, no, or even a 360-degree hinge. Instead, it's a neatly finished, beguiling traditional laptop form-factor with some eminently pleasing material decisions.
Most noticeable, of course, is the Alcantara. If you've been inside a sports-leaning car in recent years you'll probably have seen the fabric before. It's often used on steering wheels and seats, where it's more grippy than traditional materials like leather. In the case of the Surface Laptop it makes for a soft place to rest your wrists.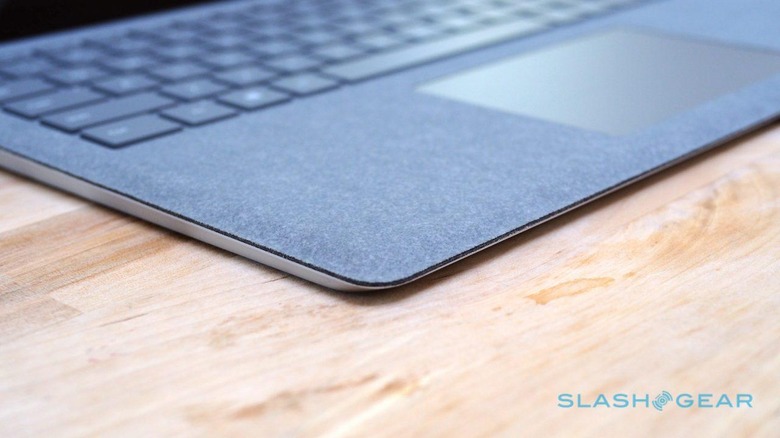 Alcantara is surprisingly resilient for what feels much like delicate suede, though that's not to say it's impervious to casual treatment. I suspect that, in a few years time – or less – there'll be some greasy palm-rests and staining in-between the keys, for instance. Unfortunately, though Microsoft offers several colors of Surface Laptop, the Alcantara itself isn't user-replaceable.
Both the keyboard and trackpad, meanwhile, are some of the best I've used on a Windows notebook. The trackpad may not be as large as on a recent MacBook Pro, but it shows none of the annoying lag or imprecision some Windows notebooks still suffer. The keys are crisp and clicky, and if you add the optional $99 Surface Pen you get all of Windows 10's handwriting recognition and art talents (including 4,096 levels of pressure sensitivity, and tilt-recognition in compatible apps). Microsoft's 3:2 aspect touchscreen is a bright, crisply-pleasing 2256 x 1504 resolution which makes the MacBook Air look gritty and cheap.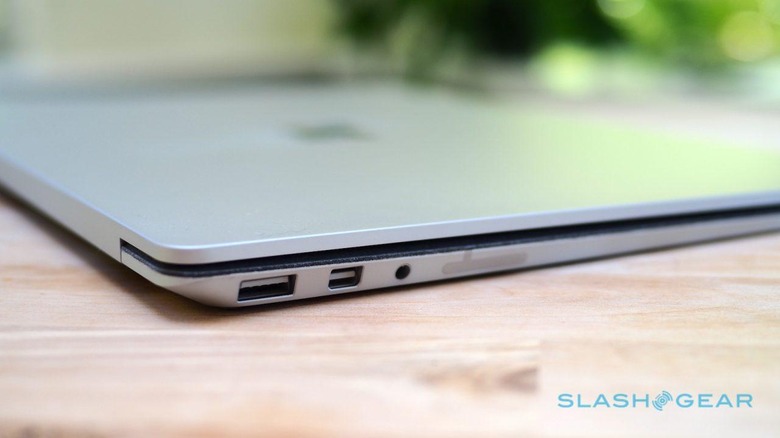 There's a port spectrum right now on modern laptops, and it's turned something as typically mundane as connectivity into a fairly controversial topic. At the one extreme you have Apple, with its wholehearted embrace of USB-C and Thunderbolt 3. In the middle, you have a whole host of Windows 10 notebook-makers, who have hedged their bets with a mixture of the new USB-C and older, legacy ports for data and video.
Then you have Microsoft. While the Surface Laptop may be cutting edge in many ways, when it comes to connectivity it's oddly reticent to update. You get a regular USB 3.0 Type-A port, a Mini DisplayPort, a headphone jack, and Microsoft's magnetic Surface Connector for charging. The power brick itself has a useful USB port for charging a second device at the same time. Sadly there's no SD card slot, which seems a shame given there's plenty of space along the sides of this 2.75 pound notebook for one.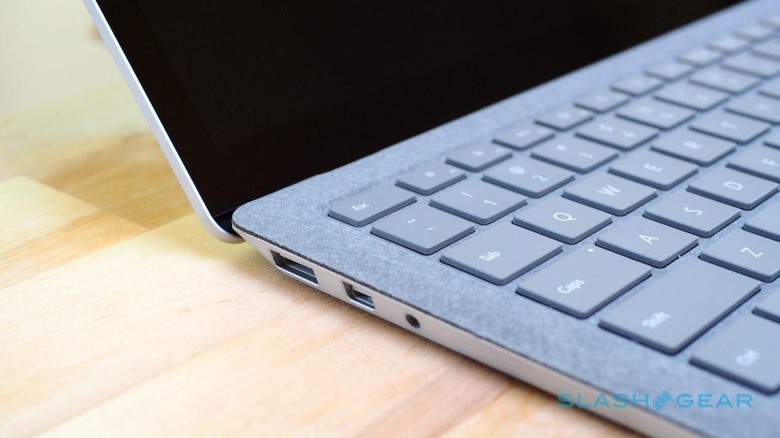 If you're doing a like-for-like upgrade from one PC to another, Microsoft's decision will probably make life fairly straightforward: your existing accessories will plug right in. All the same, I do wonder whether Microsoft has needlessly committed owners to a headache somewhere down the line. While the rest of the computing world may not have envisaged the USB-C ecosystem taking hold quite so aggressively as the MacBook Pro does, that's nonetheless definitely the way things are moving. One day, and probably not one day all that far away, the Surface Laptop will look passé.
Perversely, the Surface Laptop's most compelling feature is also its most frustrating. Out of the box it runs Windows 10 S, a version of Windows that Microsoft says is intended primarily for students and teachers. It avoids the so-called "burden of PC hygiene" by effectively preventing you from downloading apps from outside of the Windows Store. Try to download from a website, and you'll get a pop-up message saying you can't, and directing you to Microsoft's store instead.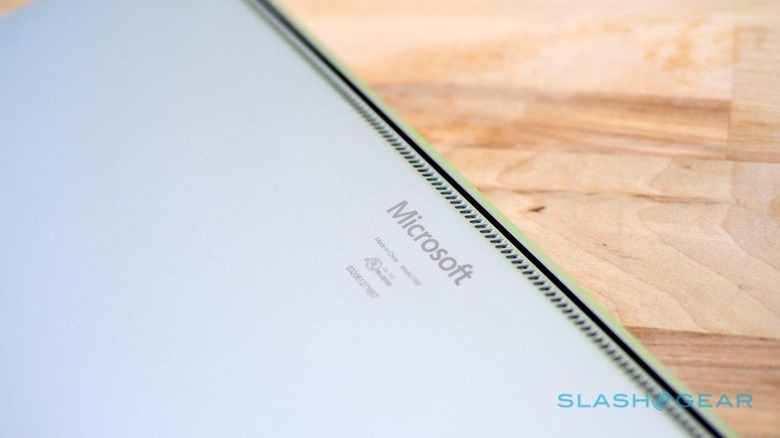 There, so the theory goes, Microsoft will signpost its Windows Store equivalent app instead. Unsurprisingly that works best when there's an official version of the same download: then, you simply access it through the Windows Store and benefit from its malware checks and such. I had mixed results when Microsoft tried to suggest similar alternatives, however. Sometimes the suggestions are okay: not great, no, but okay. Other times, like not being allowed to install Chrome because Windows 10 S only allow Microsoft Edge, I was less enamored.
In a way it's similar to the option in macOS which prevents downloads from anywhere but Apple's Mac App Store. Unlike on your MacBook, though, where you can override that block by entering your password, Windows 10 S allows no such greyspace middle-ground. If you want full app flexibility, you'll need Windows 10 Pro.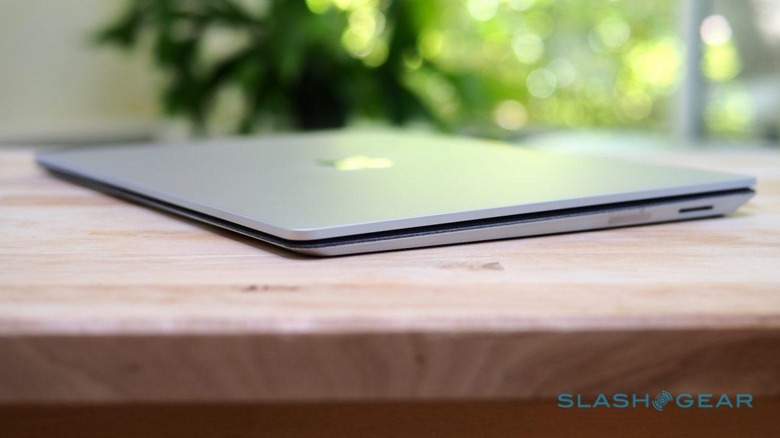 Happily – though a little confusingly – that's eminently possible. Switching from Windows 10 S to 10 Pro takes about five or ten minutes, sees all files, customizations, and apps preserved, and can even be done from the "This app won't install" popup". Eventually, Microsoft says, it'll cost $49 too, but for now it's free. What you can't then do is go back: this is a one way trip.
I suspect it's a trip most people will take, unless their school is providing the Surface Laptop as a managed machine and they're not allowed to shed Windows 10 S' shackles. I was a little disappointed that, once you upgrade, there's no real help for regular users to set up S-style limits for your kids' user accounts, for instance. What I wanted was the ability to say "yes, the admin can install whatever they please, but everyone else is still locked down" but, while those sort of granular polices are available, you're left to your own devices to configure them.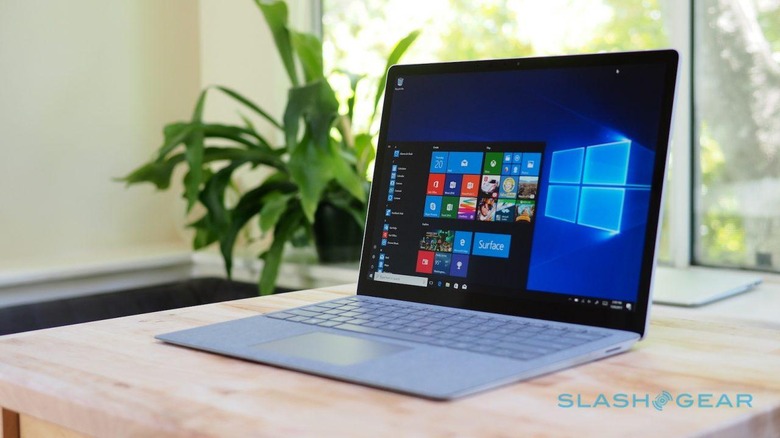 That, though, is par for the course with any Windows notebook. What makes the Surface Laptop so charming in a sea of Windows 10 machines is the little details: the extra mile that Microsoft goes, often unnoticeable in and of itself, but which makes its presence felt in everyday usability. The perky Windows Hello face recognition that, by powering up the camera as soon as the hinge starts to move, means you're often at the desktop by the time the screen is all the way open. Microsoft's obsessional power and thermal management, which means the fan is most often silent.
Performance from this $1,299 Core i5 Surface Laptop, with 8 GB of RAM, 256 GB of flash storage, and Intel HD Graphics 620, has been fine for everyday purposes. There's a cheaper, $999 version with half the RAM and half the storage, but I suspect you'll quickly resent those compromises. If you plan on doing video editing, or even thinking about gaming, the Core i7 model – which starts at $1,599 – has better Iris Plus Graphics 640 to go with its faster processor. No, it's not going to replace your gaming rig, but integrated graphics have come a long way.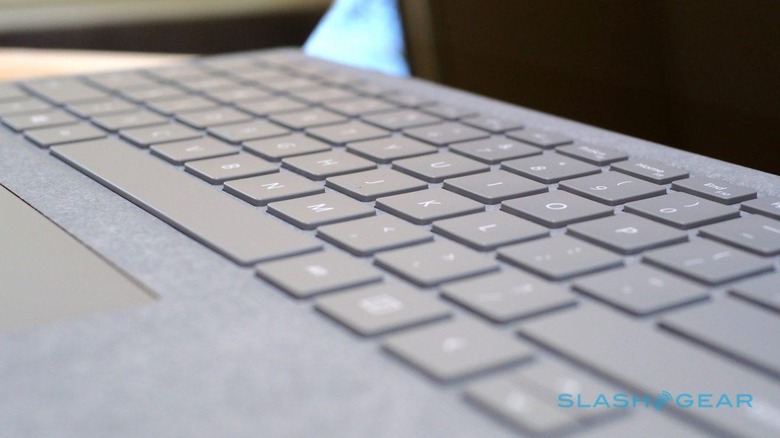 Microsoft claims you'll get as much as 14 hours use from the Surface Laptop, though that's based on nothing more arduous than playing locally-stored videos on a loop. In a typical day I saw more like eight hours, which is still reasonable given the size. I don't think it would be too tricky to coax an hour or so more from it, either, were I cautious.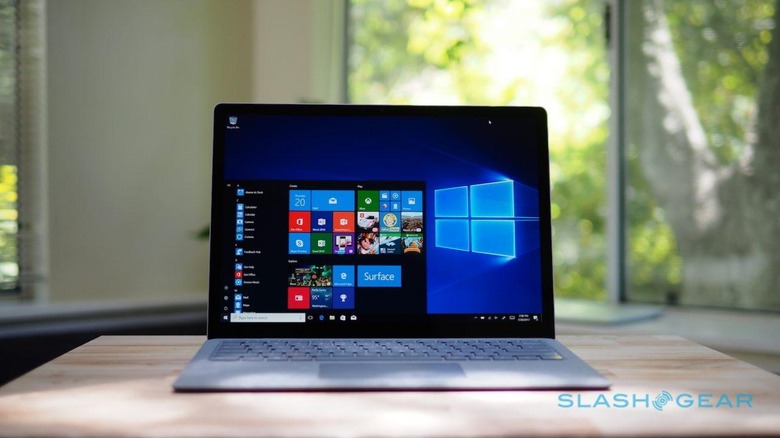 Ever since Microsoft started making Surface computers, people have been asking for a regular notebook. It's taken some time to arrive, but you can't fault Microsoft from giving people exactly what they requested. The Surface Laptop may come dressed in an unusual Alcantara suit, but the reality is that beneath the fabric this is the everyday "Nexus of Windows notebooks": the solid experience today that average buyers want, without having to worry about next-gen ports or unusual form-factors.
How that buying decision will feel two years down the line I'm not so sure about, and I do think most people are better off bypassing Windows 10 S from the get-go for the full version. Nonetheless, Microsoft has delivered just what was asked of it. The Surface Laptop is the go-to, gimmick-free notebook that puts Windows 10 front and center.