Microsoft Surface gets video unboxing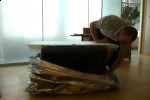 It's not the first Microsoft Surface unboxing video we've seen – this clip from December came first – but when you're dealing with something so rare as Microsoft's multitouch table, there's no harm in a little duplication.  Taking delivery of the 30-inch touchscreen behemoth is something most of us are unlikely to ever do, so join us in living vicariously through Steve Butcher of the TECS-BLOG.
Unboxing video after the cut
Steve not only gets the Surface out of its shipping crate, protective packaging and shrink-wrap, but takes off the end-panel to show the connectivity options.  Buyers get four USB ports, component video input, stereo audio input, VGA and a wired ethernet connection.
Under the gloss there's good old Windows Vista keeping things ticking over.  Surface currently costs around $13,500, and is available only to commercial organizations and developers.