Microsoft spends $26.2bn to add LinkedIn to its network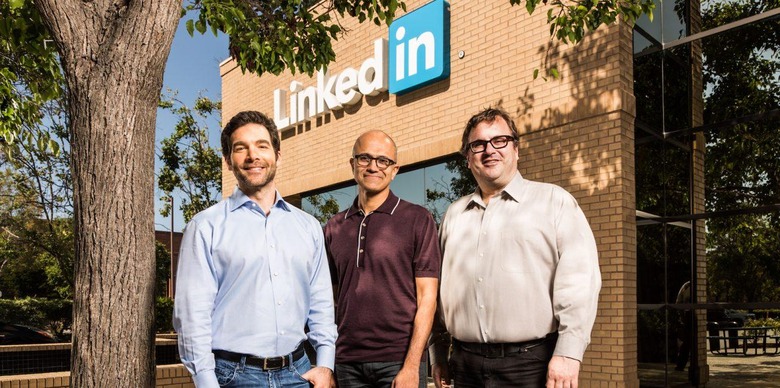 Microsoft will buy LinkedIn for $26.2bn, the two companies have announced today, with the surprise acquisition of the business-focused social network continuing Satya Nadella's strategy to further invest in services. The deal – announced while Microsoft is also readying at least one new Xbox One console for unveil this morning – will see LinkedIn retain its own brand rather than be subsumed into Microsoft-whole.
That also means that current CEO Jeff Weiner will retain his position as chief executive, though now reporting to Microsoft chief Satya Nadella.
It should be a fairly quick-closing deal, too, with both the Microsoft and LinkedIn boards approving it already. That just leaves the LinkedIn shareholders to give their approval – not to mention any regulators who have a say – but Microsoft predicts it should all be closed by the end of the calendar year.
Microsoft will pay cash for LinkedIn, it says.
The company will slot into Microsoft's Productivity and Business Processes segment, and is expected to contribute positively to the bottom line by fiscal year 2019.
While exactly what Microsoft plans to do with LinkedIn is unclear at this stage, the integration of business networking with Microsoft's existing strategies to make Office 365 and other services the go-to for professionals is already being explored.
Office, Cortana, and Skype are all likely candidates for LinkedIn integration, for instance, bringing up biographic histories of contacts, or even suggesting possible expert sources based on whatever project you're working on.
Meanwhile, it's hard to imagine Microsoft isn't seeing a Microsoft account as the future key to LinkedIn access, netting it a huge potential audience both of established professionals and new entrants to the job marketplace.
LinkedIn currently has more than 433m members, with more than 105 million unique visiting members accessing the site every month. It skews toward mobile, too, with 60-percent of visits on mobile devices – something Microsoft, struggling with Windows 10 on phones, but pushing ahead with apps for rival platforms, is likely to be very interested in – while there are apparently over 7m active job listings on the site.
It's also a publishing platform of sorts, with LinkedIn offering a Medium-style hosting service for business-centric publications.