Microsoft Roadmap leaks with 2012-14 products galore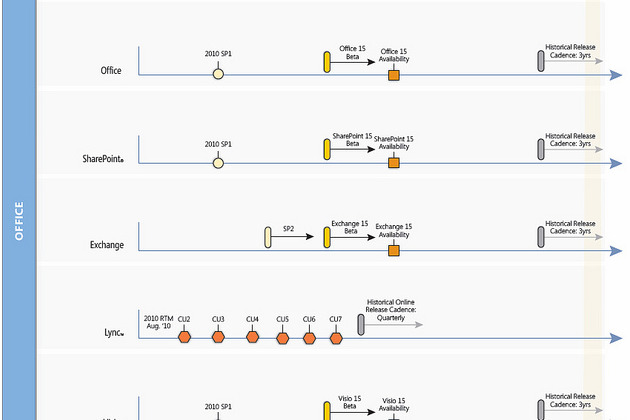 It appears that Microsoft has had leaked a roadmap which shows many product releases in both the software and hardware departments for the year 2012. This roadmap was created back in December of 2011 and was leaked this week via Microsoft's own publicly available Microsoft Partner Network and sent out by Twitter user and CEO of startup company MeeTroo Maarten Visser. This roadmap shows software including Office 15, Internet Explorer 10, Lync Server 15, Windows Phone, and more.
The two maps (two separate images available above and below) show products with a key which is also included below this paragraph. This map shows off first of all the Windows 8 map of events – here we see very little, including no mention of the Windows 8 Consumer Preview we experienced earlier this year at Mobile World Congress. The roadmap instead notes that "Windows 8 information will be communicated via other channels." For Internet Explorer 10, we see here that general availability for the program will likely be available by mid-year as it has been with previous releases – in this case probably right alongside Windows 8. See larger versions of these images in the gallery below.

Office 15 appears here to be coming out sometime around early 2013 – and we'll likely see an announcement date hitting in November of this year. Lync Server 15 should be included in this, but does not appear to be for one reason or another. Likely this program will be out after the general release of the rest of the Office 15 suite.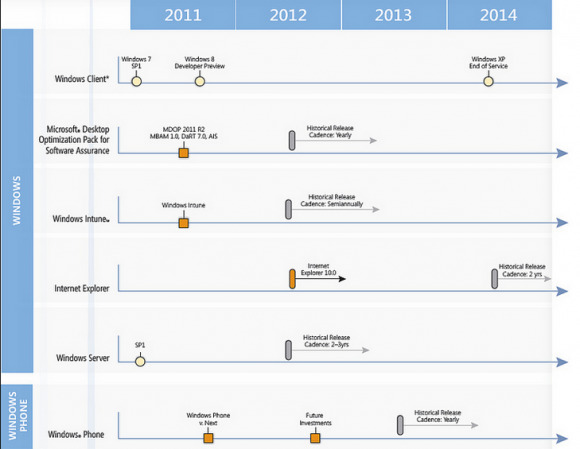 Windows Phone shows some rather vague details including "future investments" at the tail end of 2012. This may well be the launch time for Windows Phone 8, aka Apollo, as Microsoft has tipped previously that this build will be out by the end of this year as well. All of this should be taken with a grain of salt – it all does come from Microsoft, but it's certainly not information that's set in stone. Microsoft has also updated publications with the following information:
"We often provide forward-looking information to our partners and customers under our confidentially agreements with them. This information contains our best estimates and is, in no way, final or definitive." – Microsoft
So watch the news feed, folks, as we'll likely be seeing more maps like this in the future. Will Microsoft continue to show off maps such as this to the public, or was this a one time deal? We shall see!
[via ZDNet]