Microsoft puts Chrome OS in schools on notice with $189 laptops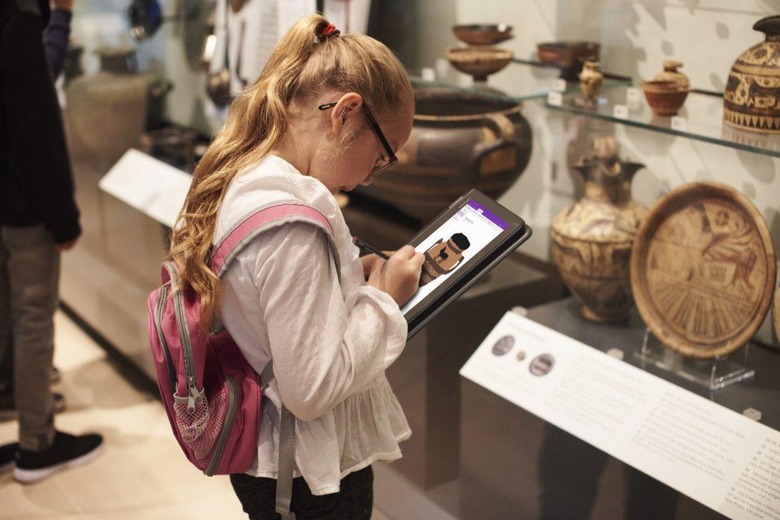 Microsoft is taking on Google's Chrome OS direct, announcing a new push in sub-$200 notebooks that will target Chromebooks' market share in classrooms. Launching at the Best education expo today, the new range of laptops kick off from as little as $189, competing directly with affordable Chromebook hardware from ASUS, Acer, and others. However, there are also software and service updates which Microsoft expects will sweeten the deal.
A significant part of that will hinge on updates to Office 365. Currently, Microsoft offers the cloud-centric Office suite free of charge in Office 365 Education form, in 146 countries. Over the next month, the company says, that'll be in line for some new features.
For instance, come February there'll be dictation support, for voice-to-text. Existing Immersive Reader functionality is being expanded to Word for Mac, iPhone, Outlook Desktop, OneNote iPad, and OneNote Mac, and there'll be new languages supported, too.
In OneNote, the Class Notebook is being updated to include assignment and grade integration with PowerSchool, the most commonly used platform in the US, and SIMS Capita, its equivalent in the UK. Class Notebooks will also support locking pages as read-only, once feedback has been given. That, Microsoft says, has been the number one request from teachers using the system.
There'll be new tools added throughout the workflow for students and teachers alike. Desmos' interactive math calculators will be baked into OneNote, while PowerPoint will allow teachers to record their lessons – which can include slides, interactive ink, narrations, and video – and then publish them to their Stream channel in the Teams classrooms. Automatic captioning will be available, too.
Finally, the Teams digital classroom hub is spreading to iOS and Android. That way, both teachers and students will be able to monitor assignments and classroom chats from their smartphones. There'll also be new translation tools to convert conversations and chats between languages.
Meanwhile, Minecraft: Education Edition is getting a Chemistry Update this spring. That will include game-based learning for the science. Microsoft is doubling-down on STEM with a partnership with MakeCode, the new Cue Education app of which will be available on Windows first. If you're interested in a HoloLens headset, meanwhile, from today there'll be a 10-percent discount in select markets where the augmented reality wearable is available. That'll run to May 31st this year.
As for the more affordable Windows notebooks, initially that will start with models from Lenovo and JP. Lenovo will have two models, the Lenovo 100e from $189 and the Lenovo 300e 2-in-1 convertible, from $279. JP, which Microsoft describes as "one of our largest partners in emerging markets," will have the Classmate Leap T303 laptop from $199, and the Trigono V401 2-in-1, from $299.