Microsoft Publishes Incoming Windows Phone 7 Update Features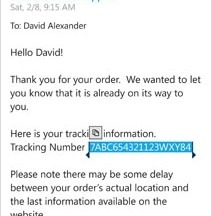 Microsoft has been forthcoming about their future Windows Phone 7 updates right from the get-go. Announcing that Copy & Paste would be included in their first Over the Air (OTA) update, the company has also made sure to include other must-have improvements for the mobile Operating System (OS). Fortunately, Microsoft's official page regarding the future update coincides with what we've heard, and seen, in the past — especially those faster apps and games.
According to Microsoft, Windows Phone 7 will be updated "soon." There's no official date yet, but rumors are starting to pick up speed that Microsoft could be readying the update to launch onto their devices in time for Mobile World Congress, which kicks off in February. As for the update itself, it will indeed include Copy & Paste, of which Microsoft was nice enough to include a picture of the action being done in an email.
Furthermore, Microsoft admits that people don't like waiting for things, so the company has managed to "whittle down" the time it takes for applications to load on initial boot-up, along with the time it takes for them to resume. The company has also made some improvements to the search function within the Marketplace. To the point, the company has put a better focus on the search. So, if you are in the Games section of the Marketplace and you do a search, it won't bring back a huge generalized search for what you're looking for through the entire Marketplace. It will just bring back results in the Game section.
If you've got yourself a Windows Phone 7 device, Microsoft says that as long as you haven't turned off the Update feature, you'll get a pop-up notification saying your phone is ready for an update. Unfortunately, we still have no idea when that's going to happen. If you want to see how the update works on a device, check out the video below.
[via Microsoft]