Microsoft page-curl Courier patent application seems far-fetched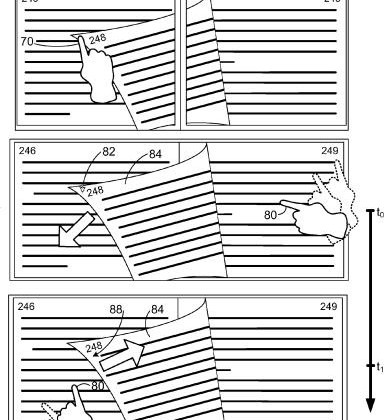 Sometimes we wonder whether companies file patent applications just to push their luck and see what they can get approved; how else can you explain Microsoft's attempt to patent page-curl screen transitions?  The new application – filed all the way back in January 2009 – describes a very iBooks-like system whereby dragging your finger across a page of text on-screen lifts the virtual page and previews the content underneath.
According to the description, Microsoft were trying to replicate the real paper experience: the lifted page would have increased transparency, showing signs of the text on its reverse, while flipping repeatedly would quickly whip through two or more pages.  It's speculated that the project was part of Microsoft's Courier research, and could've been used as part of their digital notebook.
"One or more pages are displayed on a touch display. A page-turning gesture directed to a displayed page is recognized. Responsive to such recognition, a virtual page turn is displayed on the touch display. The virtual page turn actively follows the page-turning gesture. The virtual page turn curls a lifted portion of the page to progressively reveal a back side of the page while progressively revealing a front side of a subsequent page. A lifted portion of the page is given an increased transparency that allows the back side of the page to be viewed through the front side of the page. A page-flipping gesture quickly flips two or more pages."
Meanwhile there are also refinements such as two- or three-finger scrolling, which could move the on-screen page rather than step through individual pages.  Microsoft will likely have their work cut out for them proving that this hasn't all been done before.
[via GoRumors]