Microsoft Modern Keyboard now available with hidden fingerprint sensor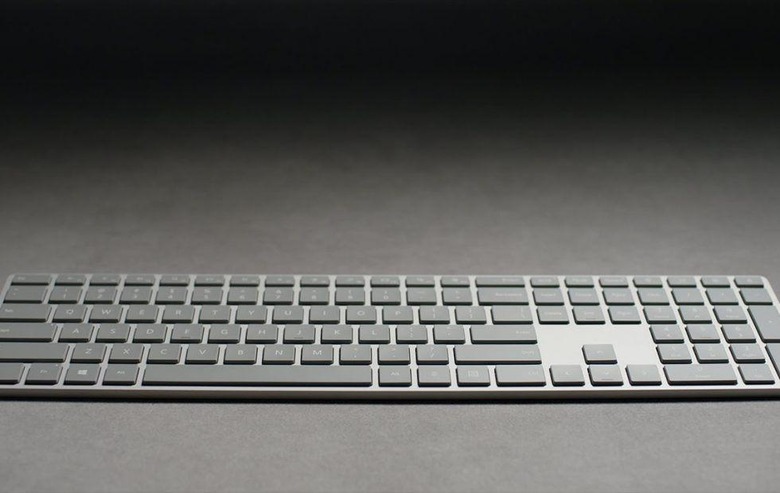 At seemingly every turn, Microsoft has been talking up the benefits of using Windows Hello, but what if you have an older PC that doesn't have any kind of fingerprint scanner or webcam built in? Microsoft has the answer with its new Modern Keyboard, which was officially introduced last month. Aside from being a rather sleek Bluetooth keyboard, the Modern Keyboard comes outfitted with a "hidden" fingerprint scanner.
In reality, the scanner isn't exactly hidden, as there's a designated key for it right next to the right Alt key. Obviously, you'll need to be using Windows 10 in order to take advantage of Windows Hello, but this keyboard should prove handy for those who have upgraded multiple machines that don't have built-in fingerprint sensors of their own.
Other than that, we have a fairly standard keyboard with a few advantages over its less expensive counterparts. Compatible with Bluetooth Low Energy 4.0/4.1, Microsoft says that this keyboard has a range of up to 50 feet in open air environments, or 23 feet in your typical office layout. You can use it in either wireless of wired configurations, with Microsoft including a USB cable to connect it directly to your computer.
Connecting it to your computer via USB will provide juice to the rechargeable battery lurking within, which can last around four months on a full charge. Though this is a full-sized keyboard complete with a number pad, its slim build means that it weighs in at 14.6 ounces, making it a fairly easy (if not rather wide) keyboard to take on the go.
The Modern Keyboard with Fingerprint ID – its full name, for the record – is launching today on both Microsoft's website and in a select number of stores around the country. Be prepared to pay a little more than some other Bluetooth keyboards, as Microsoft is asking $129.99 for this model. You can pick one up for yourself by hitting the source link below.
SOURCE: Microsoft