Microsoft Modern Keyboard has a Fingerprint ID scanner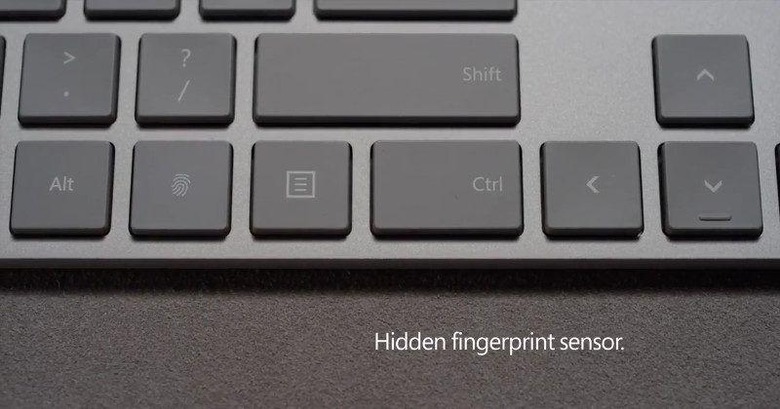 While fingerprint scanners are becoming more common in mobile devices, even mid-range smartphones, traditional computers still have a hard time catching up. Never mind new and upcoming laptops, desktops or older laptops that don't have any hardware to support that feature. Microsoft has finally come up with a solution and all you need is to replace your favorite keyboard. It has just announced the Microsoft Modern Keyboard, which looks exactly like the relatively new Surface Keyboard, except it has an extra key hiding a fingerprint scanner.
OK, it's not exactly hidden. There's a key marked with a fingerprint symbol right beside the right Alt key, so there's no mistaking what's there. Of course, it's hidden in the sense that popping off and running away with that key doesn't mean you've stolen fingerprint data. Hopefully at least.
The Fingerprint ID sensor ties in with Microsoft's Windows Hello, the umbrella framework for the company's biometrics authentication features, which includes facial recognition, iris scanners, and finger print sensors. Of course, the PC needs to be running on Windows 10, with Windows Hello set up.
Connecting the Modern Keyboard to a Windows 10 PC is promised to be painless. There's the wired way and then there's the wireless, Bluetooth way. Microsoft did seem to take a page out of Apple's book by simplifying the wireless pairing process. You simply connect the keyboard with the computer using a physical (wired) connection, click on the notification that pops up, and you're good to go. You can remove the cable once that's done.
The Microsoft Modern Keyboard with Fingerprint ID is the second accessory under the "Modern" brand, which is practically a rebranding of its Surface accessories. The keyboard will soon pop up on Microsoft's store for $129.99, while the Modern Mouse will also follow it for $49.99.
VIA: MSPoweruser