Microsoft LifeCam HD-5000, HD-5001 and HD-6000 webcams get TrueColor auto-balance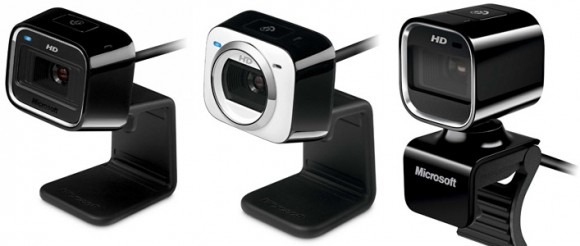 Microsoft have outed three new webcams, each of which use the company's new TrueColor Technology for improved color balance and exposure.  The new range includes the LifeCam HD-5000 and HD-5001, intended for desktop users, and the LifeCam HD-6000 for Notebooks; each supports 720p HD video recording and auto-focus.
The HD-5000 and HD-5001 are functionality identical, with the latter being a Best Buy exclusive and getting a different bezel.  Each has a flexible base section which can be shaped to grip various monitor sizes or be used on the desk.  As for the HD-6000, that has a 360-degree pivot together with a shorter USB cable and a bundled carrying case.
Microsoft TrueColor uses software to adjust color balance depending on ambient lighting, as well as face-tracking technology to correctly control exposure so that the user's face is visible rather than being washed out or murky.  The Microsoft LifeCam HD-5000 and HD-5001 will go on sale later in March 2010 priced at $49.95, while the Microsoft LifeCam HD-6000 for Notebooks will follow on in May 2010 priced at $59.95.
Press Release:
Microsoft's New TrueColor Technology Brings Color to Life

Three new LifeCams feature Microsoft Hardware's latest technology and 720p HD sensors.

REDMOND, Wash. — March 16, 2010 — Microsoft Corp. today brightens your video calls with TrueColor Technology, a groundbreaking new image processing technology that provides superior color and brightness in even the worst lighting conditions. TrueColor Technology automatically adjusts the picture quality to provide a more colorful video whether out on the porch with bright sunshine in the morning or in the living room with low light in the evening. This technology will be available in three new webcams launching today, the LifeCam HD-5000, LifeCam HD-5001 and LifeCam HD-6000 for Notebooks. These LifeCams will also feature 720p HD sensors and Auto Focus technology at a value price. In addition, TrueColor will be available with the recently launched LifeCam Cinema through a software update.

LifeCam HD-5000

"Color quality and brightness are critical aspects of video calls. Through our research we know that a large number of video calls are held in either low light conditions or uneven lighting, and these are challenging situations for any webcam and represent a common pain point for webcam users," said Daniel Anguiano, product marketing manager for Microsoft Hardware. "Our engineers at Microsoft Hardware created TrueColor Technology to improve the video experience, combining software and firmware to help people look bright and natural in virtually any lighting situation."

True Colors Shining Through

Microsoft's new image processing technology analyzes the user's environment and automatically adjusts the LifeCam settings to provide brighter and more colorful video. It does this through a carefully designed proprietary combination of software and firmware technology to deliver a great experience. To achieve these results, TrueColor Technology includes face tracking technology developed by Microsoft Research, which can detect a person's face and help ensure it's not overexposed or underexposed, so the video call picture looks great even in the most challenging lighting scenarios.

LifeCam HD-5000

Launching with Microsoft's new TrueColor Technology, the LifeCam HD-5000 offers best-in-class video quality in most lighting scenarios and is the only webcam on the market to offer 720p HD widescreen video and Auto Focus for an estimated retail price under $50.1 The LifeCam HD-5000 also features a flexible attachment base that bends to fit on most surfaces, including on top of flat-screen monitors and notebook screens, or directly on the desk, so people can use it at home on the desktop or with their notebook while on the road.

Best Buy will launch an exclusive version of this product, called the LifeCam HD-5001, that includes all the same great features as the LifeCam HD-5000, but will have a custom design with a white faceplate.

LifeCam HD-6000 for Notebooks

Also launching today is the LifeCam HD-6000 for Notebooks, which includes TrueColor Technology, 720p HD widescreen video, Auto Focus and a design just for notebooks. The LifeCam HD-6000 features a 360-degree rotation view so people can point the webcam in any direction to share more with friends and family. With a compact design, short three-foot cord and carrying case, the LifeCam HD-6000 for Notebooks is the perfect webcam for sharing life on the go.

Pricing and Availability

The LifeCam HD-5000 and the LifeCam HD-5001 will be available later this month for the estimated retail price of $49.952 and the LifeCam HD-6000 for Notebooks will be available in May for the estimated retail price of $59.95.2 The LifeCam HD-5000 and LifeCam HD-6000 for Notebooks will be available for pre-sale on Amazon.com and Buy.com starting today. TrueColor Technology will be available via a software download for LifeCam Cinema, which is already broadly available at http://www.microsoft.com/hardware/downloads/default.mspx.

Microsoft backs these products with a worldwide three-year limited hardware warranty. More information about these and other Microsoft Hardware products can be found at http://www.microsoft.com/hardware.

About Microsoft Hardware

For more than 27 years, the Hardware Group has employed innovative engineering, cutting-edge industrial design and extensive usability testing to create products of exceptional quality and durability that enhance the software experience and strengthen the connection between consumers and their PC. Microsoft Hardware leads the industry in ergonomic engineering, industrial design and hardware/software compatibility, offering consumers an easier, more convenient and more enjoyable computing experience. More information about Microsoft Hardware is available at http://www.microsoft.com/hardware and http://www.microsofthardwareblog.com.