Microsoft fires back at Consumer Reports' Surface slight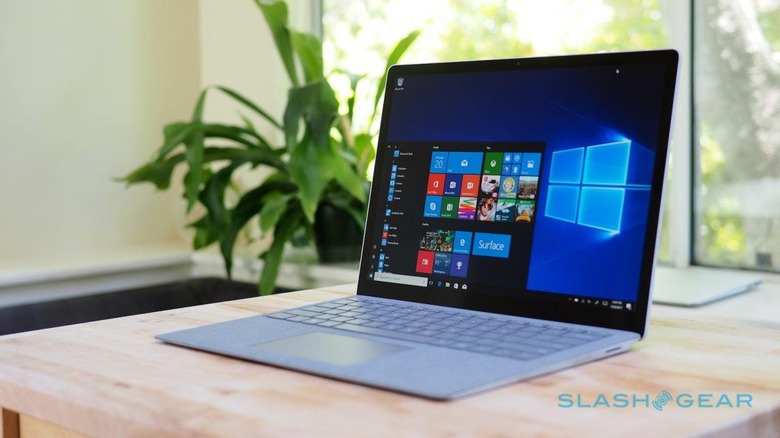 Microsoft has pushed back at Consumer Reports' decision to strip the Surface range of its "recommended" award, arguing that its actual reliability is much better than was claimed. Consumer Reports had previously granted both the Surface Laptop and the Surface Book its coveted recommendation, based on factors such as performance and design. However, it backtracked after surveys of existing Surface owners reported significantly higher problems with their laptops and tablets compared to the rest of the industry.
Indeed, according to Consumer Reports' survey of more than 90,000 people, 1 in 4 owners of Surface hardware experienced some sort of issue within the first two years of ownership. At the other end of the scale, in contrast, Apple notebooks saw just 10-percent of owners reporting issues over the same timescale. The discrepancy was enough for the review organization to change its stance on all of Microsoft's 2017 Surface line-up.
Hardly surprising, Microsoft itself disagrees with Consumer Reports' findings, and the company's conclusions. "We stand behind Surface," Panos Panay, corporate vice president of Microsoft Devices, said in a statement, going on to point out that there have been significant improvements to Surface hardware with each successive generation. "Surface has had quite a journey over the last few years," Panay argues, "and we've learned a lot."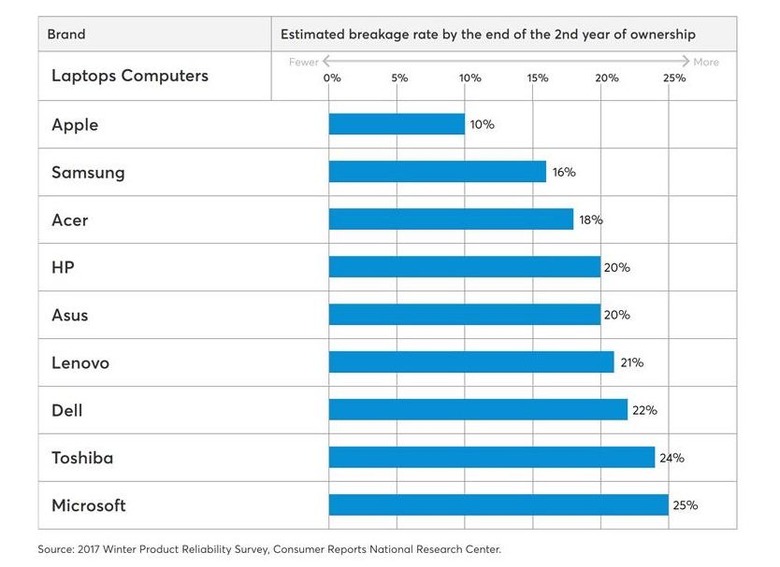 As for the 25-percent reliability rate, the Microsoft hardware chief doesn't give the company's own, internal figures. Instead, he says that based on Microsoft's own failure and return rate tracking, "both our predicted 1-2-year failure and actual return rates for Surface Pro 4 and Surface Book are significantly lower than 25%." Meanwhile, "incidents per unit (IPU)" has also improved generation to generation, Panay claims, "and are now at record lows of well below 1%."
Part of Microsoft's challenge in a survey of the sort Consumer Reports carried out is that the methodology is inherently skewed toward users of older machines. As we explained yesterday, with the eligibility period being anybody who bought new Surface hardware between 2014 and the end of the first quarter of 2017, the cohort of responses will include everything back to the Surface 2, Surface Pro 2, and Surface Pro 3. Indeed, those are the only models which have been on sale for the full two year period over which Consumer Reports is tracking reliability.
The Surface 3, Surface Pro 4, and original Surface Book also fall into the survey time bracket, though have not been on sale long enough for a full two year period to have elapsed. Meanwhile the latest Surface Laptop and Surface Pro 2017 weren't even available when Consumer Reports cut off its response window, having gone on sale in June of this year.
The result is that today's notebooks are being judged on the performance of hardware from several generations back. Of course, you could say the same thing about the other OEMs in Consumer Reports' testing, though Microsoft would presumably argue that it is a newcomer to the Windows notebook hardware space and as a result has had to improve generation-over-generation more rapidly than its rivals. For now, it seems the review company is unlikely to change its stance, though it remains to be seen how – or if – Surface sales are impacted by the change in ratings.